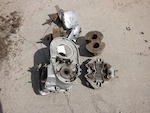 1959 Triumph 490cc 5TA Speed Twin Project
Registration no. 999 XRF
Frame no. H9648
Engine no. 5TA H14613
Introduced in September 1958, the 5TA Speed Twin was the second of Triumph's new family of unitary construction vertical twins, joining the 350cc Twenty One/3TA launched the previous year. The 500 closely followed the lines of its 350 predecessor, there being little to distinguish it mechanically apart from a larger bore, raised gearing and larger-section rear tyre. The controversial 'bathtub' rear enclosure introduced on the Twenty One was retained and the Speed Twin came finished in the model's traditional Amaranth Red. Offered for restoration and sold strictly as viewed, this incomplete and partially dismantled early 5TA Speed Twin comes with its original old-style logbook and old/current Swansea V5/V5C documents. It should be noted that the engine dates from circa 1960. No reserve.