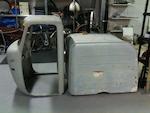 4 kilometres since restoration
1959 Lambretta FLi 175 Delivery Van
Chassis no. T41.494564
Engine no. FLi175.454619
Although best remembered these days as a 1960s style icon favoured by the fashion conscious 'Mods', the Lambretta motor scooter - together with Piaggio's rival Vespa - had been intended as basic transport for the non-enthusiast masses. Manufactured by the Italian industrial giant Innocenti, the Lambretta gained instant acceptance in the immediate post-war years, its cleanliness and convenience in particular appealing to those who regarded the true motorcycle with suspicion. The Lambretta 'A' was introduced in 1947, establishing the pattern for succeeding models. These were not long in coming, for the original's small wheels had not been liked, leading to the introduction in 1948 of an improved 'B' version. In its new form the Lambretta gained mass acceptance and by the end of 1950 Innocenti was producing up to 100 machines per day.

One of Lambretta's few failures was the unreliable TV 175, though its styling was carried over to an entirely new model for 1958: the Li. The Li was built as either a 125 or 150, producing 5.2hp and 6.5bhp respectively, its new engine in over-bored form finding its way into the revamped TV 175 Series 2 in 1959. The Li range was restyled along similar lines at the same time, with headlamp nacelle and faired-in handlebars, thus establishing the definitive Lambretta look that would endure until Italian production ceased in 1971.

Lambretta had offered three-wheeled commercial versions from 1949, commencing with the 125 FB. Goods were carried on a front luggage rack on the FB and successor FC models before a rear carrier was adopted in 1952 on the FD, remaining the norm thereafter. The vehicle offered here is an example of the FLi 175, a model built from 1959 to 1965.

Supplied new in Italy, the Lambretta was imported into the Netherlands circa 2000 and restored there by the enthusiastic former owner between 2009 and 2012 (bills available). Only 4 kilometres have been covered since the rebuild's completion and the vehicle is presented in good running condition, ready to be enjoyed by the fortunate new owner. A 'must have' for the serious Lambretta collector and a guaranteed head-turner at any scooter gathering, the machine is offered without reserve.
Saleroom notices
The machine is dated c.1963. It has not been possible to locate the chassis number, however there are photo's of both the engine and chassis numbers within the photographic restoration file. We are advised the chassis number falls within January and June 1963 production.