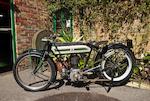 Ex-Eric Langton
1920 Triumph 550cc Model D
Frame no. 306993
Engine no. HT067101
The first Triumph motorcycle of 1902 used a Belgian Minerva engine but within a few years the Coventry firm - originally a bicycle manufacturer founded by German immigrants Siegfried Bettman and Maurice Schulte - was building its own power units. The company was soon involved in racing and the publicity generated by competition success - Jack Marshall won the 1908 Isle of Man TT's single-cylinder class for Triumph having finished second the previous year - greatly stimulated sales. By the outbreak of The Great War the marque's reputation for quality and reliability was well established, leading to substantial orders for 'Trusty Triumphs' for military use.

Triumph's 3½hp model had first appeared in 1907. Originally of 453cc, its sidevalve engine was enlarged to 476cc in 1908 and finally to 499cc in 1910 before being superseded by the 550cc 4hp model in 1914. Equipped with three-speed Sturmey-Archer gearbox and belt final drive, it was this revised 4hp - the Model H - that did such sterling service in WWI, some 30,000 'Trusty Triumphs' seeing action with British and Allied forces. After the War's end, the range was extended by the arrival of the Model D, a single-gear version of the H.

Described as in generally very good condition, this Triumph Model D was restored in Australia circa 1984 by Eric Langton, one of speedway racing's biggest stars throughout the 1930s. Credited with pioneering the 'foot forward' riding style, Leeds-born Langton spent most of his speedway career with the successful Belle Vue team before moving to Australia in 1957. A fitter, toolmaker and turner by trade, Eric continued his interest in all things mechanical by restoring old cars and motorcycles. He was the first president of the Vintage Motor Cycle Club of Western Australia and the second president of the region's Veteran Car Club. Following his death in 2001, the Triumph was inherited by his wife before passing to the current vendor, another family member. The only non-standard feature notified is the combined engine pulley/clutch. There are no documents with this Lot.