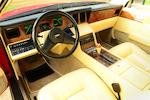 1985 Aston Martin Lagonda Saloon
Chassis no. SCFDLO1S4FTL13439
Engine no. V/580/3439
La résurrection à répétition de la marque Lagonda par Aston Martin se traduisit au milieu des années 1970 par son application à une AM V8 allongée à quatre portes dont une poignée seulement fut construite. Lorsque le concept refit surface, il fit sensation au Salon de Londres 1976. Habillée d'une stupéfiante carrosserie « razor edge » (à angles vifs) dessinée par William Towns – responsable du style de la DBS – la nouvelle berline Lagonda reprenait le même châssis long de la V8, sa devancière immédiate, tout en défrichant un nouveau domaine technologique en matière d'instrumentation et de commandes électroniques. Les problèmes posés par ces dernières retardèrent la production jusqu'en avril 1978, date à laquelle un système moins radical avait été adopté. L'intérieur était cependant et sur tous les points aussi luxueux que l'extérieur était futuriste, caractérisé par des cuirs Connolly sélectionnés, d'épaisses moquettes de laine Wilton et une débauche de noyer verni, le tout fini manuellement par d'habiles artisans selon la meilleure tradition Aston Martin. La Lagonda retouchée esthétiquement en 1987 reçut un aspect plus doux et moins anguleux et sa production se poursuivit jusqu'en mai 1990, date à laquelle 645 exemplaires avaient vu le jour. Même de nos jours, près de 40 ans après sa sensationnelle apparition, rares sont les automobiles capables de s'imposer visuellement autant que l'Aston Martin Lagonda de Towns.

Modèle à conduite à gauche équipé de la boîte automatique presque universellement choisie, cet exemplaire a été initialement la propriété d'un certain Najib Choufani (originaire du Liban) qui fit immatriculer la voiture au Royaume-Uni (sous le n° C772 DRO), livrée à Monte Carlo conforme aux spécifications du marché français (voir copie de la facture d'origine dans le dossier). Une lettre dans le même dossier précise qu'Aston Martin confirma que « 13439 » était la 7e voiture dotée de sièges de soupapes plus durs permettant d'utiliser du carburant sans plomb. La Lagonda fut ensuire utilisée (à partir de 1991) par George Patterson d'Exmouth, suivi par Billy J. Smart de Waltham Abbey qui l'acquit en 2008. Le vendeur actuel la possède depuis 2010.

La voiture châssis n° 13439 est accompagnée d'un copieux dossier historique contenant le carnet d'entretien, diverses correspondances et de nombreuses notes et factures d'entretien régulier et de réparation par Aston Martin Lagonda et divers spécialistes. La facture la plus récente émise par AML en mai 2011 concerne l'entretien des 10 000 miles (ou annuel), le remplacement du radiateur d'huile et d'importants travaux sur les bas de caisse et autres parties inférieures pour un coût d'environ €16 220. Peinte en Suffolk Red avec intérieur en cuir magnolia et décrite comme étant en état impeccable, cette Lagonda bien documentée est proposée avec le dossier susmentionné, le manuel de l'utilisateur, de nombreux certificats du MoT expirés et un contrôle MoT récent. Il convient de noter que le document d'immatriculation est retenu par le vendeur. No reserve.

1985 Aston Martin Lagonda Saloon
Chassis no. SCFDLO1S4FTL13439
Engine no. V/580/3439

Aston Martin's periodic revival of the Lagonda name saw it applied to a stretched, four-door AM V8 in the mid-1970s, a mere handful of which was constructed. When the concept re-emerged, it was the sensation of the 1976 London Motor Show. Clothed in striking 'razor-edge' bodywork designed by William Towns - the man responsible for the DBS - the new Lagonda saloon used the same long-wheelbase V8 chassis as its immediate predecessor while breaking new ground in terms of electronic instrumentation and switch-gear. Problems with the latter would delay production until April 1978, by which time a less radical design had been adopted. The interior though, was every bit as luxurious as the exterior was futuristic, featuring selected Connolly hides, deep Wilton carpeting and plentiful walnut veneer, all hand-finished by skilled craftsmen in the best Aston Martin tradition. The Lagonda was face-lifted in 1987, acquiring a slightly softer, less hard-edged look and continued in production until May 1990, by which time a total of 645 had been built. Even today, almost 40 years after its sensational debut, there are few cars that can match the visual presence of the Aston Martin Lagonda,

A left-hand drive model equipped with the almost universal automatic transmission, this example was first owned by one Najib Choufani (from the Lebanese Republic) who had the car registered in the UK (as 'C772 DRO') and delivered to Monte Carlo in French specification (see copy of original bill of sale on file). A letter on file claims that Aston Martin has confirmed that '13493' is the 7th car completed with an engine incorporating hardened valve seats, enabling it to run on unleaded fuel. The Lagonda was next owned (from 1991) by George Patterson of Exmouth followed by Billy J Smart of Waltham Abbey, who purchased it in 2008. The current vendor acquired the car 2010.

Chassis number '13493' comes with a large history file containing the service booklet, assorted correspondence and numerous bills/invoices recording regular maintenance and servicing by Aston Martin Lagonda and various specialists. The most recent invoice, issued by AML in May 2011, is for a 10,000-mile/annual service, a replacement oil cooler and extensive repairs to the sills and other lower body sections at a cost of £13,191. Finished in Suffolk Red with magnolia leather upholstery, and described as in immaculate condition, this well documented Lagonda is offered with the aforementioned history file, owner's handbook, numerous expired MoT certificates, UK V5C document and fresh MoT.
Footnotes
Saleroom notices
Partial V5C- Only trade slip and new keeper supplement are present.