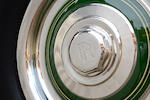 1969 Rolls-Royce Phantom VI limousine
Chassis no. PRH4576
Engine no. 4576
Présentée en 1959, la nouvelle limousine à empattement long de Rolls-Royce, la Phantom V, remplaçait à la fois la Phantom IV, réservée aux têtes couronnées et aux chefs d'état, et la Silver Wraith. La nouvelle Phantom, construite sur un châssis de Silver Cloud profondément modifié et renforcé, mesurait 6 mètres de long et permettait aux carrossiers de réaliser des carrosseries aux lignes agréables, combinant confort et habitabilité avec un coffre généreux. Un rapport de pont assez bas lui permettait d'afficher des accélérations équivalentes à celles des autres Rolls-Royce, même si sa vitesse maximale de plus de 160 m/h était un peu inférieure.

La carrosserie intégrée Park Ward Limited construisait la version limousine "de série" à sept places de la Phantom V. La sellerie du compartiment conducteur était traditionnellement en cuir, qui était aussi proposé pour le compartiment arrière avec un drap de laine. Comme on est en droit de s'y attendre sur ce type de voiture, un bar était était souvent inclus dans le compartiment arrière, tandis que les vitres électriques et l'air conditionné faisaient partie des options les plus demandées.

Le dessin de Park Ward ne subit pratiquement aucune modification jusqu'à l'arrivée des Silver Cloud III et Bentley S3 à l'automne 1962, quand la Phantom reçut les mêmes doubles phares que celles-ci et un nouveau dessin de sa partie supérieure. Désormais construite par la firme qui regroupait H. J. Mulliner et Park Ward Ltd, la voiture survécut jusqu'aux années 1990 sous le nom de Phantom VI, son abandon en 1992 marquant la fin des voitures à châssis séparé chez Rolls-Royce.

La conduite à droite châssis n° PRH4576 fut immatriculée en novembre 1969 au nom du Hanson Group, avant de passer en novembre 1989 à une certaine Mme Maude McDougald. Le vendeur a acquis cette Phantom en septembre 1996, après quoi elle a été l'objet d'une restauration complète, mécanique et carrosserie, du plus haut niveau, repeinte et équipée selon ses propres spécifications. Un compte-rendu détaillé de cette restauration peut être consulté avec l'historique de son entretien.

PRH4576 est peinte en vert Harrods avec des panneaux latéraux décoré de cannage, tandis que l'intérieur est en cuir vert avec le logotype Harrods sur la garniture de toit. L'équipement intérieur comprend télévision, video, fax, téléphones (x3), compartiment à boisson réfrigéré et bar.

Entretenue sans limitation de budget par des spécialistes, cette imposante et unique limousine a parcouru environ 89,900 km et est vendue avec ses papiers V5C du Royaume-Uni (sous l'immatriculation YUU 100H) ainsi qu'un historique complet comprenant de nombreuses factures.

1969 Rolls-Royce Phantom VI Limousine
Chassis no. PRH4576
Engine no. 4576

Introduced in 1959, Rolls-Royce's new limousine model, the long-wheelbase Phantom V, effectively replaced both the royalty/heads of state-only Phantom IV and the Silver Wraith. Built on a much modified and strengthened Silver Cloud II chassis, the new Phantom measured over 6 metres (19' 6") in length and enabled coachbuilders to combine the desirable qualities of spacious interior accommodation with generous boot space and graceful lines. A lower final drive ratio ensured that, while top speed was a little down on that of its stable-mates, though still in excess of 100mph, the new Phantom could all but match them for acceleration.

Rolls-Royce's in-house coachbuilder Park Ward Limited produced what was in effect the 'standard' seven-passenger limousine coachwork for the Phantom V. The usual upholstery for the front compartment was leather, which was also included in the list of alternatives for the rear along with West of England cloth. As one would expect in a car of this class, a cocktail cabinet was often incorporated into the rear compartment's cabinetwork, while electric windows and air conditioning were among the preferred options.

Park Ward's design remained substantially unaltered until the introduction of the Silver Cloud III and Bentley S3 in the autumn of 1962 when it was revised to incorporate the new models' four-headlamp lighting arrangement and a completely new above-waistline treatment. Now built by the combined firm of H J Mulliner, Park Ward Ltd, the car lived on into the 1990s as the Phantom VI, its passing in 1992 marking the final demise of the separate-chassis Rolls-Royce.

Right-hand drive Phantom VI chassis number 'PRH4576' was originally registered in November 1969 to the Hanson Group before being reregistered in November '89 to a Mrs Maude McDougald. The current vendor purchased the Phantom in September 1996, since when it has undergone an extensive mechanical and body restoration to the highest standards, being refinished and extensively upgraded to his own specification. A comprehensive record of this renovation is available for inspection together with the car's previous service history.

'PRH4576' is finished in Harrods Green with golden basket weave to the side panels, while the interior is in green leather with the Harrods logo on the headlining. Interior equipment includes a television, video player, analogue fax machine, telephones (x3), wine cooler and a cocktail cabinet.

Expertly maintained in house regardless of cost, this unique and imposing limousine has covered only approximately 89,900 kilometres from new and comes with UK V5C document (for the registration number 'YUU 100H') and a comprehensive history file containing numerous invoices.
Saleroom notices
V5 is a copy. No invoices. No history file.