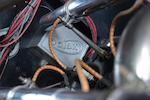 1924 Daimler 57hp 9.4 Litre limousine
Coachwork by Hooper & Co
Chassis no. 19119
Carrosserie n° 6152

En 1924, le roi George V commanda quatre Daimler pour les besoins de la cour, spécifiant l'utilisation de la 9.4 Litre à moteur sans soupapes Knight. Une poignée fut construite en plus du quartet royal, dont celle-ci est la seule survivante connue en état de marche. La seule survivante des voitures du roi George V se trouve, elle, dans la collection royale, à Sandringham.

Le châssis 19119 a récemment subi une restauration " jusqu'au dernier boulon" au plus hauts standard pour la somme de plus de 450 000 $. Le moteur a été entièrement refait, tout comme la boîte, l'essieu arrière, les freins et toutes les servitudes annexes, tandis que la carrosserie a été entièrement repeinte dans une livrée Royal Claret. Un intérieur correct a été fourni en prenant comme modèle celui d'origine et minutieusement remis aux spécifications d'époque. La sellerie est en cuir noir avec tapis assortis dans le compartiment avant, du drap beige et du tissu West of England à l'arrière.

La carrosserie limousine est due à Hooper & Co, le carrossier londonien, faiseur de la reine Victoria et du roi Edouard VII, et l'un des plus distingués carrossiers britannique. Un coffre à bagages recouvert de cuir est monté à l'arrière. Des phares de croisement brevet Barker sont installés à l'avant, activés par un levier depuis l'habitacle. La voiture est imposante avec une présence impressionnante sur la route, faisant paraître minuscules les Rolls-Royce Silver Ghost...

On nous signale que le moteur six cylindres est un parangon de souplesse, contredisant sa taille. À peine audible lorsqu'il tourne, il a un couple énorme, passant d'une allure de marche à pied à sa vitesse de pointe sans une secousse. La fumée caractéristique des moteurs sans soupapes se dissipe rapidement au fur et à mesure que le moteur chauffe. Lorsqu'il est chaud, le moteur repart sur la compression résiduelle - sans recourir au starter moteur - en remettant le contact et en retardant le levier d'allumage, sur la colonne de direction. Il y a deux jeux de bougies, l'un commandé par la magnéto, l'autre par la bobine. De même, la voiture possède deux démarreur de façon à ne pas rester bloquée si l'un tombait en panne.

La boîte est une quatre rapports, un peu dure au premier abord, mais devenant plus souple quand l'huile est à la bonne température. Il y a un embrayage à deux étages. Pour monter les rapports, on enfonce la pédale à mi-course, pour rétrograder, on l'enfonce à fond, ce qui désolidarise le volant moteur. Les freins aux quatre roues sont censés être raisonnablement efficaces et la direction très légère et précise, compte tenu de la taille et du poids de la voiture.

Vendue avec ses taxes de MoT payées et des papiers d'immatriculation V5C du Royaume-Uni (sous le numéro BF 5906), cette imposante voiture s'honore de ses origines royales et affiche une excellence que l'on ne retrouve nulle part ailleurs. Elle pourrait figurer dans un musée et ferait la pièce maîtresse de n'importe quelle collection.

1924 Daimler 57hp 9.4-Litre Limousine
Coachwork by Hooper & Co
Chassis no. 19119
Body no. 6152

In 1924 King George V ordered four new Daimlers for Royal service, specifying the use of the 9.4-litre Knight-type sleeve-valve engine. An additional handful was built alongside the Royal quartet, of which this is the only known running survivor. The only survivor of the King George cars is in the Royal Collection at Sandringham.

Chassis number '19119' recently underwent a 'last nut and bolt' restoration to the highest standards costing over $450,000. The engine has been completely rebuilt, as has gearbox, rear axle, brakes and all the various ancillary items, while the coachwork was completely repainted in Royal Claret livery. A correct interior was sourced, based upon the original, and painstakingly fitted to the correct specification. There is black leather upholstery and matching carpets to the front compartment, beige cord fabric and West of England cloth to the rear.

The limousine body is by Hooper & Co, London-based carriage makers to Queen Victoria and King Edward VII and arguably the finest of all British coachbuilders. A leather covered luggage trunk is mounted at the rear. Barker-patent dipping headlights are fitted at the front, the lever activating them being in the cab. The car is simply massive with huge presence on the road, dwarfing comparable Rolls-Royce Silver Ghosts, etc.

We are advised that the six-cylinder engine is a paragon of smoothness, belying its size. Barely audible when running, it is also immensely torquey, pulling from walking pace in top gear without so much as a tremor. The usual blue smoke at start up, characteristic of sleeve-valve designs, quickly dissipates as the engine warms. Once hot, the engine starts easily off the residual compression - without recourse to the starter motor - by switching the ignition back on and retarding the ignition lever on the steering boss. There are two sets of spark plugs: one fired by the magneto, the other by coil ignition. Similarly, the car has two separate starter motors so would not be rendered immobile should one fail.

The gearbox is a four-speed unit, a little heavy at first but becoming easy to use when the oil is up to temperature. There is a two-stage clutch. For upward changes the pedal is depressed half way; for down changes it is pushed all the way down, which brakes the flywheel. The four-wheel brakes are said to be reasonably effective and the steering very light and precise, given the car's size and weight.

Offered with current MoT/tax and UK V5C registration document (for the number 'BF 5906') this imposing car boasts royalty's stamp of approval and is of an excellence one simply does not find elsewhere. It is of museum quality and would make a wonderful centrepiece to any collection.