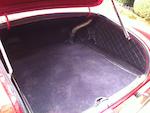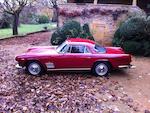 1962 Maserati 3500 GTI coupé
Chassis no. AM101.2462
Engine no. AM101.2462
À la fin des années 1950, Maserati faisait face à un avenir morose. Les difficultés financières de l'entreprise l'amenèrent à se retirer de la compétition et à adopter une stratégie de survie en devenant constructeur de voitures de série. La deuxième vie de la marque commença en 1957 avec le lancement de la 3500 GT, sa première voiture construite en nombre significatif.

La 3500 GT, une 2+2 luxueuse profitait de l'expérience de Maserati en compétition, utilisant un châssis tubulaire et un moteur dérivé des 350 S Sport. La suspension indépendante à l'avant par triangle et ressorts hélicoïdaux était de type à essieu rigide avec un système à ressort semi elliptiques conventionnel à l'arrière. Le six cylindres à double arbre à cames en tête développait 220 ch à l'origine, les modèles ultérieurs passant à 235 ch grâce à une injection mécanique Lucas. Dotée de freins à tambours et d'une boîte à quatre rapports à ses débuts, la 3500 GT fut progressivement modernisée et reçut des freins à disque d'abord à l'avant puis finalement aux quatre roues. La 3500 GT fut abandonnée en 1964 après 2 200 exemplaires de tous types produits.

L'exemplaire proposé ici, représente le meilleur de la lignée, avec sa boîte à cinq rapports ZF, son double allumage et l'injection mécanique Lucas, d'où la dénomination de GT"I", première apparition de cette nomenclature devenue si populaire plus tard. Le châssis n° 2462 fut vendu neuf par l'importateur hollandais Naasland de Voolurg le 24 septembre 1962, puis passa dans les mains d'un Français résidant dans le Var dans les années 1980.

Le vendeur a acheté la voiture en 2001 à son propriétaire qui résidait à Bordeaux, par le biais d'un intermédiaire lyonnais. Depuis son acquisition la voiture a reçu des carburateurs Weber à la place de l'injection Lucas et a subi une restauration complète. Celle-ci a débuté en 2008 pour s'achever en 2012, date depuis laquelle la voiture n'a pratiquement pas roulé. Repeinte dans sa rare livrée originale rouge Maya avec intérieur en cuir noir, cette belle classique italienne est décrite comme étant en très bon état général et est vendue avec un certificat Maserati, une carte grise française et son système d'injection d'origine.

1962 Maserati 3500GTI Coupé
Coachwork by Carrozzeria Touring
Chassis no. AM101.2462
Engine no. AM101.2462

By the end of the 1950s Maserati was facing a bleak future. Its parent company's financial difficulties forced a withdrawal from racing, and Maserati's survival strategy henceforth centred on establishing the company as a producer of road cars. The Modena marque's new era began in 1957 with the launch of the Touring-bodied 3500GT, its first road car built in significant numbers.

A luxury 2+2, the 3500GT drew on Maserati's competition experience, employing a tubular chassis frame and an engine derived from the 350S sports car unit. Suspension was independent at the front by wishbones and coil springs, while at the back there was a conventional live axle/semi-elliptic arrangement. The twin-overhead-camshaft, six-cylinder engine developed around 220bhp initially, later examples producing 235bhp on Lucas mechanical fuel injection. Built initially with drum brakes and a four-speed gearbox, the 3500GT was gradually improved, gaining five speeds, front disc brakes and, finally, all-disc braking. By the time the 3500GT was discontinued in 1964, around 2,200 of all types had been made.

The example offered here represents the pinnacle of the model's development, featuring the five-speed ZF gearbox, twin-plug ignition and Lucas mechanical fuel injection, hence the name change to '3500GTI', the first time the now common 'GTI' appellation had ever been used. Chassis number '2462' was sold new via the Dutch importer Naasland in Voolurg on 24th September 1962 and in the 1980s passed to a French resident in Var.

The current vendor bought the Maserati in 2001 from a person living in Bordeaux, via a retailer based in Lyon. Since acquisition the engine has been fitted with Weber carburettors, replacing the Lucas fuel injection, and the car treated to a complete restoration. The latter commenced in 2004 and was completed in 2012, since when the car has scarcely been used. Refinished in its rare original livery of Maya Red with black Connolly leather interior, this beautiful Italian classic is described as in generally very good condition and offered with Maserati factory certificate, French Carte Grise and the original fuel injection system.