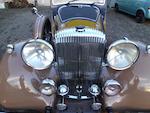 1939 Daimler 4 Litre Sports berline
Coachwork by Vanden Plas
Chassis no. 47820
Engine no. 88659
Probablement l'une des cinq seules survivantes, cette rare Daimler 4 Litre à carrosserie Vanden Plas fut d'abord immatriculée en juillet 1939 par le London County Council, à l'usage du Lord maire de Londres. Les fiches du Jaguar Daimler Vehicle Information font état de la livraison en châssis nu à l'époque, livré en octobre 1939 et peint en kaki, une couleur probablement dictée par l'approche des hostilités.

La Daimler a connu seulement quatre propriétaires au cours des dernières 46 années, dont un collectionneur bien connu de la marque. Repeinte après mise à nu de la carrosserie, il y a quatre ans, la carrosserie est en aluminium avec les ailes avant en acier et est réputée avoir des lignes d'ouvertures et une structure en bois parfaites, et les chromes sont dit-on excellents. La garniture de toit joliment patiné, le cuir et les boiseries sont dans leur état d'origine, seuls les tapis de sol ont été remplacés. On nous informe que tous les compteurs et les instruments fonctionnent parfaitement et que rien ne nécessite de réparation dans l'immédiat. La voiture est, de fait, aussi propre dessous que dessus.

Le moteur tout aluminium a été complètement refait, y compris des pistons neufs, etc..., en 2009, la culasse a été enlevée et de nouvelles de bougies ont été installés. Le radiateur, le démarreur et la dynamo ont également été refaits. Une pompe à eau électrique a été discrètement montée sous le radiateur et une pompe à essence Facet empêche les trous d'alimentation, au cas où le moteur chaufferait dans les embouteillages. La suspension a été révisée, tout comme les freins (au début des années 2000), les joints de direction ont été remplacés, les roues en acier inoxydable poli ont été refaites et les pneus équipés de nouvelles chambres à air. Un échappement en inox a aussi été installé. La boîte présélective Wilson fonctionne en douceur, permettant à la voiture de démarrer sur n'importe quel rapport.

Cette jolie 4 Litre a participé à plusieurs rallye de la marque dans les 20 dernières années, et a gagné un prix important au Daimler Owners Club National Rally en 2003. Elle a aussi fait l'objet d'un article dans le journal 'Driving Member', décrivant la réfection du moteur, et est listée dans le 'Daimler Days Vol. 2'. Le vendeur a acheté la voiture chez Bonhams à la vente d'Oxford en mars 2011 (lot 212). Depuis son acquisition, elle a été nettoyée, l'embrayage réparé et elle a parcouru environ 1,600 km sans aucun problème. La documentation vendue avec la voiture comprend les fiches du Jaguar/Daimler Vehicle Information mentionnées plus haut, diverses factures de restauration, les papiers d'immatriculation V5 du Royaume-Uni (sous le numéro FYM 555) et un ancien carnet de bord remontant aux années 1950, 1960.

Avec son moteur 8 cylindres, son magnifique châssis et son élégante carrosserie Vanden Plas sans montant, cette Daimler 4 Litre affiche de bonnes performances routières et s'avère supérieure aux Bentley de l'époque, tout en étant encore plus exclusive.

1939 Daimler 4-Litre Sports Saloon
Coachwork by Vanden Plas
Chassis no. 47820
Engine no. 88659

Believed one of only five surviving, this very rare Vanden Plas-bodied Daimler 4-Litre was first registered in July 1939 with London County Council for use by The Lord Mayor of London. The accompanying Jaguar Daimler Vehicle Information Sheet states that the car was supplied at that time as a chassis and delivered in October 1939 finished in khaki, a colour scheme almost certainly determined by the ongoing hostilities.

The Daimler has had only four owners in the last 46 years, including a well-known collector of the marque. Bare metal re-sprayed around four years ago, the body is all aluminium with steel front wings and is said to have perfect shut lines and perfect wood framing, while the chrome is said to be excellent. The nicely patinated interior's headlining, leather and woodwork are totally original; only the carpets have been replaced. We are advised that all the dials and instruments work as they should and that nothing needs immediate attention. Indeed, the car is said to be as clean underneath as it is on top.

The all-aluminium engine was completely rebuilt in 2000, including new pistons, etc, and in 2009 the cylinder head was removed and all new core plugs fitted. The radiator, starting motor and dynamo have been rebuilt also. An electric water pump is fitted discreetly below the radiator and there is a Facet fuel pump to prevent fuel starvation should the engine get hot in heavy traffic. The suspension has been overhauled, likewise the brakes (in the early 2000s), the steering joints replaced, the polished stainless steel wheels completely rebuilt and the tyres fitted with new tubes. A stainless steel exhaust has been fitted also. The Wilson pre-selector gearbox functions smoothly, enabling the car to pull away in any gear.

This fine 4-Litre has attended several marque rallies over the past 20 years and in 2003 won a major award at The Daimler Owners Club National Rally. It has also been the subject of a feature in the journal 'Driving Member' describing the engine rebuild, and is listed in 'Daimler Days Vol. 2'. The current vendor purchased the car at Bonhams' Oxford sale in March 2011 (Lot 212). Since acquisition it has been tidied, the clutch fixed, and driven for approximately 1,000 miles without any problems. Accompanying documentation includes the aforementioned Jaguar/Daimler Vehicle Information Sheet, sundry restoration invoices, UK V5 registration document (for the number 'FYM 555') and an old style continuation logbook dating from the 1950s/1960s.

With its eight-cylinder engine, superb chassis and stylish pillar-less coachwork by Vanden Plas, this Daimler 4-Litre is a fine performer and arguably superior to the Bentleys of its era while being even more exclusive.