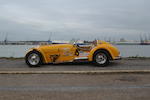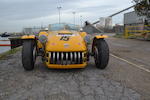 Construite vers 1990
1953 Kurtis-Kraft 500S Sports-Racer Continuation
Chassis no. KK 500S 031
Engine no. 01
Frank Kurtis est l'un des grands noms de l'histoire de la compétition automobile aux États-Unis. Ses voitures ont dominé les 500 Miles d'Indianapolis au début des années 1950, gagnant toutes les épreuves sauf une entre 1950 et 1956, et y figurèrent honorablement jusqu'à la fin de la décennie.

D'origine slovène, Frank Kurtis est né à Crested Butte dans le Colorado en 1908. Il travailla sur les midgets de l'écurie Don Lee Racing Team et, à la fin des années 1930, construisit sa propre midget qu'il baptisa Kurtis-Kraft. On estime qu'il construisit plus de 550 midgets et quelque 600 kits dans son usine de Glendale, en Californie, ainsi que des quarter-midgets, des voitures de sport, des voitures pour course d'accélération et des voitures de championnat (Indianapolis).

Ces dernières recevaient l'omniprésent moteur Offenhauser, tandis que les midgets utilisaient une version plus petite du quatre cylindres "Offy". En 1986, Kurtis fut le premier non-pilote inscrit au Hall of Fame du National Midget Auto Racing, qui présente l'association du châssis Kurtis au moteur Offenhauser comme "pratiquement imbattable pendant plus de 20 ans". Frank Kurtis mourut en 1987.

Kurtis débuta en 1949 en construisant des sportives à deux places à châssis surbaissé et carrosserie en fibre de verre utilisant des éléments mécaniques Ford. 36 avaient été construites quand il vendit le projet à Earl "Madman" Muntz en 1955. Les premières sportives de Kurtis étaient faites pour la route, mais le projet suivant de leur créateur était une sportive pour la compétition. Ce fut la 500S qui dérivait étroitement des voitures de championnat, avec un large châssis-cadre à croisillons mécano-soudés, un essieu rigide et une suspension à barre de torsion. Cet ensemble mécanique paraissait archaïque au regard des réalisations européennes de l'époque (et même comparé à la plupart des voitures de série américaines), mais il était solide et parfaitement adapté aux routes américaines au revêtement parfaitement lisse de l'époque. Ressemblant à une Indy car un peu corpulente affublée de garde-boue, la 500S avait une calandre à neuf barres verticales rappelant les racers Kurtis-Kraft, et pouvait accueillir tout un éventail de V8 américains. Puissante et rapide, la Kurtis-Kraft 500S gagna de nombreuses courses du SCCA aux mains de pilotes comme Briggs Cunningham, Chuck Daigh et Bill Stroppe.

Seule une poignée de Kurtis-Kraft 500S ayant été construites à l'époque par l'usine, la demande dépassait largement l'offre ces derniers temps, un peu à la manière des Cobra. Heureusement pour les collectionneurs, Arlen Kurtis, le fils de Frank, est spécialisé dans la restauration des voitures originales créées par son père et a repris la fabrication d'une série de « Continuation cars » dans ses ateliers de Bakersfield.

On pense que cette Kurtis-Kraft 500S Continuation a été construite vers 1990, sa première sortie ayant été effectuée par un certain Mr Ward pour la Carrera Panamericana de 1991. La voiture fut ensuite vendue à Joquille Limited de Shoreline Drive à Florence dans l'Orégon et fut achetée par son actuel propriétaire en 2004. Une nouvelle boîte de vitesses et un nouvel essieu arrière ont été montés en 2006/2008. Depuis son achat, la Kurtis-Kraft a couru le Grand Prix Historique de Tunis (2008, 2010 et 2012), la Coppa Monza Intereuropa (2011 et 2012) et la course de côte Bologna-San Luca, etc. Les meilleurs résultats de la voiture furent une 1e et une 3e places dans sa classe à Monza, une 2e place au classement général deux fois de suite à Tunis et une victoire de classe deux fois à Bologne. Présentée dans sa livrée de Monza en 2012, cette pure sportive américaine à moteur V8 est vendue avec ses anciens papiers et certificats américains, une immatriculation et des papiers autrichiens et ses papiers HTP en cours de la FIA.
Footnotes
Saleroom notices
Since the sale catalogue went to press, Bonhams has learned that this car is one of the limited series of Kurtis-Kraft 500S 'continuations' built (with sequential chassis numbering) in the 1990s by race-car engineer Jon Ward at his facility in Littlerock, Southern California. Ward used chassis frames constructed on the original jigs by Frank Kurtis' son, Arlen, and incorporated the best of modern technology in the form of the latest Chevrolet V8 engine, disc brakes, a limited slip differential, power steering and a host of other top-quality, competition-specification components. Jon Ward's ambition was to win the Carrera Panamericana driving his own 500S, which he duly did in 1991, co-driven by his wife, Shirley. Another of Ward's 500S continuations came second. The FIA papers and Austrian registration papers are copies, not originals. There is no US certificate of title.