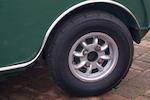 1964 Austin Mini Cooper S 1275 compétition
Chassis no. CA2S7487743
Pilotée par Pat Moss, Paddy Hopkirk et les "finlandais volants" Rauno Aaltonen et Timo Makinen, la Mini Cooper était devenue l'une des voitures de rallye les plus brillantes des années 1960, malgré sa petite taille et son apparente fragilité. Son expression ultime, la S de 1275 cm3, avait remporté le rallye des Tulipe en 1964, lors de sa première sortie et était devenue le fer de lance de la marque à partir de 1965, remportant le Monte-Carlo, le circuit d'Irlande, de Genève, de Tchécoslovaquie, de Pologne, les 1000 lacs, Munich-Vienne-Budapest, et le RAC Rallye, une série d'exploits remarquables. Avec quatre victoires, Aaltoinen avait été sacré champion d'Europe.

1966 allait s'avérer aussi fructueux pour les Mini d'usine, avec des victoires dans sept épreuves du championnat européen. Seul ombre au tableau, la disqualification au rallye de Monte-Carlo pour des raisons bassement techniques, après avoir terminé aux trois premières places du rallye. La revanche arriva l'année suivante quand Aaltonen remporta le Monte-Carlo, l'une des six victoires en championnat remportées par la Mini au cours de la saison. Aujourd'hui encore, bénéficiant de plus de 40 années d'avance technologique, la Mini reste un choix populaire auprès des amateurs de rallye historique à tous les niveaux.

Équipée d'un moteur 1275 S d'origine développant plus de 100 ch, cette Austin Mini Cooper S a été préparée pour la compétition en Belgique pour les épreuves VHS-VHRS et Maxi. Immatriculée pour la route, la voiture est vendue avec ses papiers d'immatriculation belges et son passeport FIA/RACB.

1964 Austin Mini Cooper 1275 'S' Competition Saloon
Chassis no. CA2S7487743

Driven by Pat Moss, Paddy Hopkirk and 'Flying Finns' Rauno Aaltonen and Timo Makinen, the Mini Cooper developed into the most successful works rally car of the 1960s, belying its small size and apparent fragility. Its ultimate expression - the 1,275cc 'S' - had won first time out in the 1964 Tulip Rally and became the works' frontline car from 1965 onwards, winning the Monte Carlo, Circuit of Ireland, Geneva, Czech, Polish, 1,000 Lakes, Munich-Vienna-Budapest and RAC rallies outright, a quite outstanding achievement. With victories on four occasions, Aaltonen became European Champion.

1966 would prove equally successful for the works Minis, with victories in seven European Championship rallies; only the team's disqualification from the Monte on a trivial technicality after finishing 1, 2, 3 on the road spoiling what was otherwise an exemplary record. Revenge was gained the following year when Aaltonen won in Monte Carlo, one of six Championship victories secured by the works Minis that season. Today, benefiting from 40-plus years of technological advances, the Mini remains a popular choice among devotees of historic rallying at all levels.

Boasting an original 1,275cc 'S' engine producing 100bhp-plus, this Austin Mini Cooper 'S' has been competition prepared in Belgium for VHC-VHRS and Maxi 1000 events. Road registered, the car is offered with Belgian registration papers and FIA/RACB passports.