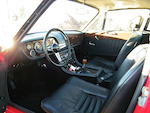 Exposée à Pebble Beach
1967 Trident Clipper Coupé
Chassis no. H3/271/676GT
Engine no. 1339 H16KC
La Trident Clipper fit ses débuts sous la forme d'un exercice de style de Trevor Fiore pour TVR au Salon de Genève en 1965. Quand le constructeur de sportives de Blackpool traversa l'une de ses nombreuses crises financières, le projet Clipper fut vendu à Bill Last, l'un des concessionnaires de la marque. Les premières Clipper utilisaient le châssis de la TVR Grantura, avant que Last ne passe au châssis de l'Austin-Healey 3000 puis à celui de la Triumph TR6 pour les évolutions Venturer et Tycoon. La Clipper à carrosserie en fibre de verre utilisait des V8 Ford, bien que deux exemplaires tardifs aient reçu des moteurs Chrysler. On estime que Trident construisit à peu près 225 voitures de tous types entre 1967 et 1978.

La Clipper à conduite à gauche vendue ici est l'une des dix équipées du V8 Ford 289 Hi-Po de 4 727 cm3 dont les 271 ch permettent à la voiture de réaliser le 0 à 100 km/h en moins de 5 secondes, d'abattre le 400 m en en 14, 3 secondes et d'atteindre les 233 km/h. C'est la sixième Clipper construite et elle a été vendue neuve par International Motors à Austin, Texas. En 1988, la voiture fut redécouverte et restaurée avec soin par Peter Fino, dans un état "mieux que neuf". Elle fut exposée à Pebble Beach en 1996 et apparut dans Automobile Quarterly, en couverture d'un numéro de 1999. Rosso Chiaro avec intérieur en cuir noir Connolly, cette petite anglo-américaine peu connue est vendue avec ses papiers d'immatriculation anglaise V5.

Exhibited at Pebble Beach
Trident Clipper coupé 1967
Chassis n° H3/271/676GT
Engine n° 1339 H16KC

The Trident Clipper started out as a Trevor Fiore styling exercise commissioned by TVR and exhibited at the Geneva Salon in 1965. When the Blackpool-based sports car maker went through one of its many financial crises the Clipper project was sold to Bill Last, one of its dealers. Early Clippers used the TVR Grantura chassis before Last switched first to the Austin-Healey 3000 frame and then to that of the Triumph TR6 for the related Venturer and Tycoon models. Ford V8 engines were used for the glassfibre-bodied Clipper, though two late examples were completed with Chrysler units. It is estimated that Trident built approximately 225 cars of all models between 1967 and 1978.

The left-hand drive Clipper offered here is one of ten fitted with the 289ci (4,727cc) Ford Hi-Po V8 whose 271bhp output is sufficient to propel the car to 60mph in under 5 seconds, through the quarter-mile in 14.3 seconds and on to a top speed of 145mph (233km/h). It is the sixth Clipper built and was despatched new to International Motors in Austin, Texas. In 1988 the car was rediscovered and painstakingly restored by Peter Fino to 'better than new' condition. It was shown a Pebble Beach in 1996 and featured in Automobile Quarterly, appearing on the front cover in 1999. Finished in Ferrari Rosso Chiaro with black Connolly hide interior, this little-known Anglo-American sports car is offered with UK V5 registration document.