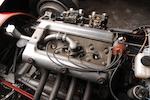 1955 Alfa Romeo 1900 Monoposto 'Satta' Special
Chassis no. AR 1900 13140
Engine no. AR 1900 14150
L'unique Alfa Romeo « spéciale » offerte ici a été inspirée par les travaux du Dr Orazio Satta Puliga, responsable de la conception du type « 1900 » et de l'ultime développement de l'Alfetta Grand Prix de F1. L'élaboration a commencé alors que le vendeur vivait en Nouvelle-Zélande, la base de cette monoplace étant une berline Alfa Romeo 1900 Super (châssis n° 13140) ayant appartenu auparavant à Betty Roycroft, épouse du pilote connu localement Ron Roycroft.

Excepté le châssis tubulaire en acier, la suspension arrière De Dion et la carrosserie, tous les principaux composants mécaniques de la Satta Spéciale proviennent de la même voiture datant de 1955 ou avant.Toutes les opérations ont été réalisées avec une qualité mécanique maximale sans considération de coût afin de produire une voiture comparable à une voiture de course d'usine qui, sans être une copie des monoplaces 158/159 Alfetta gagnantes du Championnat du Monde, reste le plus possible dans l'esprit de ces voitures légendaires.

La plupart des travaux ont été réalisés en Nouvelle-Zélande avant l'arrivée de la voiture au Royaume-Uni où elle a été terminée en 2012 avec l'aide de Keith Poynting. Peter Bruin a construit la structure du châssis et la suspension arrière De Dion en 2002 en menant à bien ce travail en 12 semaines seulement, tandis que la carrosserie en aluminium était fabriquée par le regretté Fred Grosley qui avait travaillé chez Vickers dans les années 1930. Après la guerre, Fred a travaillé pour Alta et HWM en fabriquant les carrosseries des monoplaces de Grand Prix. Les tâches de mécanique générale furent exécutées par George Darbyshire.

Graham Brayshaw, ingénieur expérimenté dans le domaine des voitures de compétition, a construit un moteur de 1 975 cm3 à partir de deux groupes 1900. La tubulure d'admission et les deux carburateurs Weber double corps de 45 qui proviennent d'une 1900 Superleggera sont munis de trompettes d'aspiration à écran de gaze métallique.

Conçu et construit par un ingénieur « course », le système d'échappement à extracteur type compétition comporte un collecteur pour les cylindres 1 et 4 et un autre pour les cylindres 2 et 3 qui débouchent dans un unique pot de détente recouvert d'un écran anticalorique dessiné et perforé dans le style de l'époque. Les Weber ont été réglés par Jeremy Brewster sur un banc à rouleaux dynamométrique. Excepté les modifications ci-dessus, le moteur est aux spécifications standard.

Malgré leur provenance d'une berline 1900, la suspension avant et les tambours à ailettes en aluminium sont très convaincants sur cette « spéciale » monoplace style années 1950, ce qui n'est pas surprenant étant donné l'héritage d'Alfa en compétition. La suspension arrière De Dion était répandue sur les voitures de course dans les années 1950 et la satta comporte un différentiel alfa romeo à carter aluminium avec demi arbres découverts suspendu par un ressort à lames transversal permettant un réglage correct de la suspension en compétition. Un système identique est employé à l'avant. L'amortissement arrière est assuré par deux Houdaille neufs à bras, comme sur de nombreuses voitures des années 1950, tandis qu'une paire de Houdaille d'occasion équipe le train avant. Chaussées de pneus Dunlop Racing, les roues Borrani à jante aluminium sont montées sur des moyeux neufs d'époque.

Le réservoir, neuf et adapté à la forme de la pointe arrière, est rempli par une ouverture munie d'un gros bouchon à ouverture rapide d'époque. La batterie est montée dans la pointe comme la pompe électrique SU neuve. Copié sur un original d'époque, le pare-brise course a été fabriqué à la main comme les ouïes du capot. Totalement refait à grands frais, le gros compte-tours monté sur la planche en aluminium est accompagné du manomètre de pression d'huile et du thermomètre d'eau Aric du type correct. Le volant compétition du type correct copié sur un original des années 1950 comprend un centre en aluminium et une jante faite de 32 pièces en noyer, tandis que le siège est correctement garni de velours côtelé brun. L'ensemble donne une voiture de course des années 1950 magnfiquement construite à partir de pièces d'époque correctes qui promet à son heureux propriétaire une expériende de pilotage hors normes.

Bien qu'elle ne soit pas immatriculée pour la route, la Satta Spéciale a passé le contrôle technique du MoT (certificat valable jusqu'au 26 avril 2013) et elle est reconnue par le registre Alfa Romeo 1900. Seront joint au lot un dossier historique complet contenant des photos détaillées des travaux réalisés et une liste de pièces de rechange utiles qui accompagnent la voiture. Dans le cadre d'un passionnant projet de développement supplémentaire, cette liste comprend un compresseur Mario Speluzzi qui équipait autrefois une monoplace Maserati 4CL/4CLT de la Scuderia Milano.

1955 Alfa Romeo 1900 Monoposto 'Satta' Special
Chassis no. AR 1900 13140
Engine no. AR 1900 14150

The unique Alfa Romeo 'special' offered here was inspired by the work of Dr Orazio Satta Puliga, the man responsible for designing the '1900' model and also for the final development of the Alfetta Grand Prix racer. Work commenced while the vendor was living in New Zealand, the basis for the monoposto being an Alfa Romeo 1900 Super saloon (chassis number '13140') that previously belonged to Betty Roycroft, wife of well-known local racing driver, Ron Roycroft. Apart from the tubular steel chassis frame, the De Dion rear suspension and the body, all the Satta Special's major mechanical components are from this same donor car, dating from 1955 or earlier.

All work has been done to a high standard of engineering with no expense spared to produce a car comparable with a factory-built racer, which although not a copy of the World Championship-winning Alfetta 158/159 is very much in the spirit of those legendary models. Most of the work had been completed in New Zealand before the Alfa was brought to the UK, where it was finished in 2012 with assistance from Keith Poynting. Peter Bruin built the chassis frame and De Dion rear suspension in 2002, completing the task in only 12 weeks, while the aluminium bodywork was constructed by the late Fred Gosley, who worked at Vickers Brooklands during the 1930s. Post-war, Fred worked for both Alta and HWM, constructing bodywork for monoposto racing cars. General mechanical work was carried out by George Darbyshire.

Graham Brayshaw, an experienced racing car engineer, built one 1,975cc engine from two 1900 units. The inlet manifold and two twin-choke Weber 45 carburettors are from a 1900 Superleggera and have air trumpets with gauzes. Designed and built by a racing engineer, the competition extractor exhaust system features paired headers from cylinders one and four and cylinders two and three, which feed a single expansion chamber complete with period-style shaped and drilled cover. The Webers have been set up by Jeremy Brewster using a rolling-road dynamometer. Apart from the aforementioned modifications, the engine is to standard specification.

Although taken from a 1900 saloon, the front suspension and finned aluminium brake drums look entirely convincing on this 1950s-era monoposto 'special', which is perhaps not so surprising given Alfa Romeo's competition heritage. De Dion rear suspension was common on 1950s racing cars and the Satta's incorporates an aluminium-cased 1950s Alfa Romeo differential and open half-shafts. This is supported by an adjustable transverse leaf spring enabling the suspension to be set up correctly for competition. A similar arrangement is employed at the front. Damping at the rear is courtesy of a pair of new Houdaille lever-arm shock absorbers, as fitted to many 1950s racing cars, while a pair of second-hand Houdailles is fitted at the front. Shod with Dunlop Racing tyres, the alloy-rimmed Borrani wheels are mounted on new-old-stock splined hubs all round.

There is a new aluminium fuel tank, which is shaped to fit inside the tail unit and is filled via a large, period, flip-top, racing filler cap. The battery is mounted in the tail, as is the new SU electric fuel pump. Copied from a period original, the racing windscreen was made by hand, as were the bonnet louvres. Fully rebuilt at great cost, the large tachometer is mounted on the aluminium dashboard alongside correct Aric oil pressure and water temperature gauges. The correct, racing-type steering wheel was copied from a 1950s original, consisting of an aluminium centre and 32-piece walnut rim, while the seat is authentically upholstered in brown corduroy. The end result is a beautifully constructed 1950s-style racing car, built using period-correct components, that promises some wonderful driving experiences for the fortunate new owner.

Although not registered for the road, the Satta Special is currently MoT'd (certificate expires 26.04.2013) and is recognised by the Alfa Romeo 1900 Register. Included in the sale is a complete history file containing detailed photographs of the work done and a list of useful spare parts that accompany the car. Affording an exciting prospect for further development, these include a Mario Speluzzi supercharger originally fitted to a Scuderia Milano Maserati 4CL/4CLT racing car.