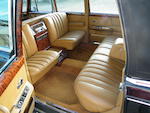 Premier exemplaire produit
1965 Mercedes-Benz 600 landaulet
Chassis no. 100.015-12-000237
Carrosserie n° 00001

"À une époque où faire étalage de sa richesse n'était pas un crime, la 600 était l'équivalent automobile de Monaco. C'est un chef d'œuvre d'ingénierie, très en avance sur la concurrence, qui donnait une nouvelle définition du mot opulence." Classic & Sportscar magazine.

Au début des années 1960, il ne manquait qu'un modèle à la gamme en perpétuelle expansion de Mercedes-Benz, une berline de grand prestige, équivalente des Grosser Mercedes d'autrefois. L'espace fut comblé en 1963 avec la présentation de la toute nouvelle 600 au Salon international de Francfort. Dernier cri de la technique automobile dans pratiquement tous les domaines, la nouveauté était dotée de tous les équipements imaginables. Elle offrait un V8 à arbre à cames en tête à injection de 6,3 litres – une première chez Mercedes – une suspension pneumatique avec réglage de l'amortissement, une transmission automatique à quatre rapports, des freins à disque aux quatre roues, une direction assistée, un verrouillage central et un système d'air conditionné séparé à l'avant et à l'arrière. Ses passagers, dorlotés, jouissaient des avantages de leur siège ajustable via un système hydraulique sophistiqué qui commandait également les vitres et assistait l'ouverture et la fermeture du coffre.

La version la plus populaire était la berline sur l'empattement de 3,20 m qui pouvait accueillir six passagers, tandis que la limousine sur l'empattement long Pullman – une géante dépassant les 6 mètres de long et adulée des chefs d'état, sans parler des papes – pouvait recevoir huit personnes. Malgré son poids non négligeable, la 600 affichait des performances respectables, atteignant les 100 km/h en moins de 10 secondes et dépassant les 200 km/h à fond.

Parmi les propriétaires célèbres de la 600, on trouve Elvis Presley, John Lennon, George Harrison, Jack Nicholson, Coco Chanel, Hugh Hefner, Ron Wood, Aristote Onassis et Rowan Atkinson. La liste des dictateurs est tout aussi impressionnante avec Nicolae Ceausescu, la maréchal Tito, Fidel Castro, Pol Pot, Enver Hoxha, Idi Amin Dada, Saddam Hussein, Kim Il-sung et Kim Jong-il.

Cette impressionnante Mercedes-Benz 600 est la première d'une série limitée de 59 voitures construites avec une carrosserie landaulet par l'usine sur l'empattement long du châssis Pullman, dont 49 étaient avec conduite à gauche et 10 à conduite à droite. La voiture fut immatriculée le 13 mai 1965 et le bon de commande indique comme propriétaire le « Fuhrpark Untertürkheim » (parc des voitures de fonction d'Untertürkheim) qui louait les voitures au gouvernement d'Allemagne de l'Ouest pour les déplacements officiels. Aucune Mercedes-Benz 600 ne fut officiellement la propriété du gouvernement d'Allemagne de l'Ouest, elles appartenaient toutes à l'usine qui les fournissait pour les besoins officiels. L'un de ses landaulets royaux, probablement celui offert à la vente, fut utilisé lors de la visite officielle de SM la reine Elizabeth II en Allemagne de l'ouest en 1965. Le bon de commande décrit la couleur de l'intérieur comme « cognac 1505 » et note l'installation d'une main courante sur le rebord du toit auquel s'accrochaient les distingués passagers lorsqu'ils étaient debout à l'arrière.

La voiture resta dans le parc des voitures de fonction d'Untertürkheim jusqu'en décembre 1971, quand elle fut livrée à Mercedes-Benz France, à Paris, avant d'être vendue à un chef d'état africain. Redécouverte au début des années 1970, elle fut rapatriée en Allemagne pour y être restaurée par un spécialiste des Mercedes-Benz 600 réputé de Hambourg qui entreprit une reconstruction totale, sans restriction de budget, en utilisant des pièces détachés neuves d'origine. Un rapport d'un spécialiste du TüV atteste que la 600 est en excellent état général. La voiture est noire avec une capote (automatique) assortie et un intérieur en cuir cognac, et parmi les caractéristiques remarquables on note une séparation intérieure, des sièges en vis-à-vis à l'arrière et un bar réfrigéré. La voiture est vendue avec des papiers autrichiens.

The first of its kind produced
1965 Mercedes-Benz 600 Landaulet
Chassis no. 100.015-12-000237
Body no. 00001

'In an age when flaunting your wealth wasn't a crime, the 600 was the automotive equivalent of Monaco. It's a masterpiece of engineering, a quantum leap over its opposition, and redefines the word opulence.' - Classic & Sportscar magazine.

By the commencement of the 1960s, Mercedes-Benz's ever-expanding model range was lacking in only one department: a super prestige saloon to rival the Grosser Mercedes of the past. This gap was filled in September 1963 with the appearance at the Frankfurt International Motor Show of the all-new 600. Representing state-of-the-art automotive engineering in just about every department, the supremely well-equipped newcomer featured an overhead-camshaft, fuel-injected, 6.3-litre V8 engine - Mercedes' first - air suspension with variable ride control, four-speed automatic transmission, all-round disc brakes, power-assisted steering, central locking and separate air conditioning systems for front and rear compartments. Its cosseted occupants enjoyed the advantages conferred by multi-way adjustable seating powered by a sophisticated system of hydraulics that also operated the windows and assisted in opening/closing the doors and boot lid.

The most popular version was the 3,200mm (10' 6") wheelbase saloon that could seat up to six passengers, while the long-wheelbase Pullman limousine - a veritable leviathan exceeding 20' in length and beloved of Heads of State, not to mention a succession of Popes - could accommodate up to eight. Despite its not inconsiderable weight, the 600 was endowed with highly respectable performance, reaching 60mph (97km/h) in a little under 10 seconds and exceeding 125mph (201km/h) flat out.

Celebrity owners of the Mercedes-Benz 600 have included Elvis Presley, John Lennon, George Harrison, Jack Nicholson, Coco Chanel, Hugh Hefner, Ronnie Wood, Aristotle Onassis and Rowan Atkinson. The roll call of dictator owners is similarly impressive: Nicolae Ceausescu, Marshal Tito, Fidel Castro, Pol Pot, Enver Hoxha, Idi Amin, Saddam Hussein, Kim Il-sung and Kim Jong-il all being represented.

This impressive Mercedes-Benz 600 is the first of a limited run of 59 cars constructed with landaulet coachwork by the factory on the long-wheelbase Pullman chassis, 49 of which were left-hand drive, 10 right-hand drive. The car was first registered on 13th May 1965 and the copy of the original production order records the owner as 'Fuhrpark Untertürkheim' (motor pool Untertürkheim), which then loaned it to the West German government for official duties. (No Mercedes-Benz 600 was actually owned by the West German government, they were all owned by the factory and supplied for official use when needed). One of these regal landaulets, quite possibly that offered here, was used as transport for the historic state visit of HM Queen Elizabeth II to West Germany in 1965. The production order lists the colour of the interior leather as 'Cognac 1505' and records the installation of hand rails on the roof edge, which would be held by distinguished passengers while standing in the rear.

The car remained in the Stuttgart-Untertürkheim motor pool until December 1971 when factory records show that it was delivered to Mercedes-Benz France in Paris, from where it was sold to an African head of state. Rediscovered in the early 1990s, it was brought back to Germany to be restored by a well-known Hamburg-based Mercedes-Benz 600 specialist, who undertook a comprehensive, no-expense-spared rebuild using new-old-stock parts. A specialist report by the German TüV testifies to the 600's generally very good condition. The car is finished in black with matching landaulet hood (power operated) and cognac leather interior, while noteworthy features include an internal division, vis-à-vis seating in the rear and a refrigerated drinks cabinet. The vehicle is offered with Austrian registration documents.
Saleroom notices
German TUV and Austrian registration documents are copies only.