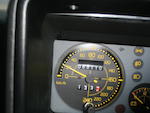 1993 Lancia Delta HF Integrale Evoluzione II berline
Chassis no. ZLA831AB000581276
Après avoir utilisé un système combinant un compresseur traditionnel (Volumex) avec un turbocompresseur sur la Delta S4 de rallye pour l'homologation, Lancia opta pour le seul Turbo pour la Delta HF. Déjà reconnue pour ses grandes qualités routières dues à une suspension très travaillée, la HF passait au cran supérieur avec une transmission intégrale aux quatre roues dernier cri. Estampillée Delta HF 4WD au moment de son lancement en 1986, la voiture faisait appel à un compresseur Volumex avant de l'échanger pour un turbo en devenant Integrale.

Celle-ci allait se montrer une voiture de rallye redoutable, gagnant le championnat du monde en 1987 et 1988, tout en restant une berline familiale tout à fait pratique dans sa version routière. Les performances firent encore un bond avec l'adoption d'une culasse 16 soupapes sur le quatre cylindres 2 litres en 1989, la puissance maximale passant à 200 ch et la vitesse maximale à 220 km/h. Homologuée pour maintenir les voitures d'usine à niveau, les premières Evoluzione furent construites à la fin de 1991, avec des voies plus larges, une carrosserie modifiée en conséquence et un moteur recartographié délivrant 210 ch, entre autres améliorations.

Rouge avec intérieur en Alcantara beige, cet exemplaire non modifié de la Lancia "culte" se présente en très bon état général, avec 83,500 km au compteur. Elle est vendue avec ses dernières factures d'entretien (2011/2012), ses papiers de cession et une carte grise française.

1993 Lancia Delta HF Integrale Evoluzione II Hatchback
Chassis no. ZLA831AB000581276

After using a system combining both a conventional (Volumex) supercharger and a turbo on their 'homologation special' Delta S4 rally car, Lancia opted for turbo-charging alone for the Delta HF. Already a fine handling car courtesy of its tuned suspension, the HF moved up a class with the introduction of a state-of-the-art four-wheel-drive transmission. Badged as the Delta HF 4WD on its introduction in 1986, the model retained the Volumex blower before switching to a straightforward turbo when transformed into the Integrale.

The latter would prove a supremely capable rally car, winning the World Rally Championship in 1987 and 1988, yet in road trim remained a thoroughly practical family hatchback. Performance was boosted further by the introduction of a 16-valve cylinder head for the 2.0-litre four-cylinder engine in 1989, maximum power increasing to 200bhp and top speed to 220km/h. Homologated to maintain the works team's competitive edge, the first Evoluzione models were manufactured towards the end of 1991, incorporating wider track, appropriately altered bodywork and a re-mapped engine producing 210bhp among many other improvements.

Finished in red with beige Alcantara interior, this unmodified example of Lancia's 'cult classic' is described as in generally good condition, currently displaying a total of 83,500 kilometres on the odometer. The car is offered with recent service invoices (2011/2012), 'cession' document and French Carte Grise.