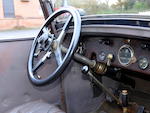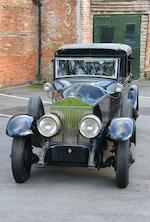 1928 Rolls-Royce Phantom I berline Trouville
Coachwork by Brewster
Chassis no. S241FP
Si l'on se fie aux registres fournis par le Rolls-Royce Owners Club, S241FP a été livrée neuve dotée d'une carrosserie de berline Oxford par Brewster, récupérée sur la Silver Ghost S208ML. Son premier propriétaire, un certain M. Thomas, ne garda la voiture que quelques mois, avant qu'elle ne passe aux mains de Mme Mary E. H. Rutter, une philanthrope bien connue d'Utica, dans l'état de New York. Cinq années plus tard, il fut décidé de remettre la voiture au goût du jour en commandant une nouvelle carrosserie, une berline Trouville. Mme Rutter mourut en 1941 et il semblerait que la voiture devint la propriété de L. W. Britow de Portland dans le Maine, puisqu'on sait qu'elle lui appartenait déjà en 1942. Le R-ROC ne mentionne qu'un autre propriétaire, G. Walter Johnson de Wilbraham, dans le Massachussetts, au milieu des années 1970.

S241FP est décrite comme très présentable. La peinture est d'origine avec le chiffre de Mary Rutter, tandis que les accessoires nickelés et les garnitures intérieures de cuir et de tissu ainsi que les équipements électriques sont eux aussi d'époque. Tous les accessoires électriques fonctionnent parfaitement y compris la sonnette pour le chauffeur! Le moteur tourne rond et semble en parfait état, bien que la culasse ait été fendue par le gel à un moment donné. Incluse dans la vente, une culasse de rechange qui a été réparée autrefois. Une bonne occasion d'acquérir une rare et élégante Phantom conservée dans un remarquable état d'origine, S241FP est vendue avec les copies du registre de l'usine et des documents de douane montrant que les droits pour la communauté européenne ont été acquittés.

1928 Rolls-Royce Phantom I Trouville Town Car
Coachwork by Brewster
Chassis no. S241FP

According to records provided by the Rolls-Royce Owners Club, 'S241FP' was delivered new with Oxford sedan coachwork by Brewster, which had been transferred from Silver Ghost 'S208ML'. Its first owner was a Mr Thomas who kept the car for only a few months before it passed to Mrs Mary E H Rutter, a noted philanthropist from Utica, New York. Five years later it was decided to bring the car up to date by commissioning a new Trouville Town Car (sedanca) body. Mrs Rutter died in 1941 and it would seem that the car then passed to L W Bristow of Portland, Maine as it is known to have been with him by 1942. R-ROC records list only one other keeper: G Walter Johnson of Wilbraham, Massachusetts in the mid-1970s.

'S241FP' is described as generally presentable; the paintwork is original, retaining Mary Rutter's initials, while the nickel/German Silver brightwork, the leather/cloth interior and the electrics are likewise entirely original. The electrics are in full working order; including the buzzer to call your chauffeur! The engine turns over and appears in generally good condition, although the cylinder head has at some time suffered a freeze crack. Included in the sale is a spare cylinder head that has benefited from previous repairs. Representing a wonderful opportunity to acquire a rare and elegant Phantom preserved in highly original condition, 'S241FP' is offered with copies of factory build sheets and customs documents showing EU duties paid.