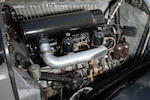 Livrée neuve à 'Bentley Boy' Bernard Rubin
1935 Bentley 3½-Litre Sports Saloon
Coachwork by Park Ward Ltd
Chassis no. B-109-CW
Engine no. B5BB
Si le rachat de Bentley Motors par Rolls-Royce en 1931 priva la première de son indépendance, il permit au moins de sauvegarder le nom de Bentley. Lancée en août 1933, la première des « Derby Bentley », comme on allait les désigner, perpétua l'aspect sportif de la marque, mais d'une façon encore plus raffinée qu'auparavant. « The Silent Sports Car » (la voiture de sport silencieuse), car tel fut son slogan, eut peu de rivales dans le domaine des voitures de tourisme infatigables sur de grandes distances en combinant comme elle le raffinement traditionnel des Rolls-Royce aux performances et au comportement routier des Bentley.


La Derby Bentley fut naturellement une automobile carrossée sur mesures et conformément à son caractère sportif habillée le plus souvent de carrosseries conduite intérieure ou cabriolet faites pour être conduite par son propriétaire. Sur 2,442 exemplaires produits (y compris le modèle 4 ¼-Litre ultérieur), près de 50 pour cent furent construites par Park Ward. Fondée en 1919, Park Ward s'était forgée un grande réputation en carrossant des Bentley, des Rolls-Royce et autres automobiles de qualité avant de recevoir en 1933 un ultime « vote de confiance » lorsque Rolls-Royce entra au capital de la firme de Willesden et en prit le contrôle six ans plus tard.

Les copies des fiches de construction de la voiture précisent que « B109CW » fut vendue neuve à Bernard Rubin, le riche « Bentley Boy » qui avait partagé le volant de la célèbre voiture 4 ½-Litre gagnante au Mans, « Old Mother Gun » avec Woolf Barnato en 1928. Né en Australie, Rubin arriva en Angleterre avec sa famille en 1908 et courut pour la première fois en mai 1928 à Brooklands en terminant 6e des Six Heures. Malgré une blessure reçue dans un accident de course en 1929, il continua de s'impliquer dans le sport en soutenant la carrière de son collègue « Bentley Boy » Sir Henry « Tim » Birkin. Bernard Rubin mourut de tuberculose le 27 juin 1936, dix-sept mois seulement après avoir pris possession de « B109CW ».

Exemplaire aux numéros concordants, la Bentley qui a bénéficié d'une restauration ancienne par Antique Automobiles Ltd se trouve toujours en très bel état d'origine. Le moteur comporte de pistons neufs de Fiennes Restoration Ltd et la voiture est dotée d'un échappement en acier inox. Un dossier complet relié en cuir contenant une documentation photographique sur les travaux effectués sera joint.

Belle « Derby Bentley », élégamment carrossée par un des meilleurs spécialistes britanniques, « B109CW » est accompagnée de son jeu d'outillage et offerte avec la documentation susmentionnée, un très copieux dossier de factures d'entretien et le document d'immatriculation au Royaume-Uni V5 sous le numéro « BLT 410 ». Fidèle aux traditions de la marque, cette Bentley peut tout aussi bien vous conduire à l'opéra ou participer aux épreuves historiques telles que la Mille Miglia rétrospective.

Delivered new to 'Bentley Boy' Bernard Rubin
1935 Bentley 3½-Litre Sports Saloon
Coachwork by Park Ward Ltd
Chassis no. B-109-CW
Engine no. B5BB

Although Rolls-Royce's acquisition of Bentley Motors in 1931 robbed the latter of its independence, it did at least ensure the survival of the Bentley name. Launched in August 1933, the first of the 'Derby Bentleys', as they would come to be known, continued the marque's sporting associations but in a manner even more refined than before. 'The Silent Sports Car', as it was swiftly dubbed, had few peers as a tireless long-distance tourer, combining as it did traditional Rolls-Royce refinement with Bentley performance and handling.

The Derby Bentley was, of course, an exclusively coachbuilt automobile and as befits its sporting nature was almost always fitted with owner-driver saloon or drophead coupé coachwork, the 'standard' designs being the work of Park Ward. Of the 2,442 examples manufactured (including the subsequent 4¼-Litre model) almost 50% were bodied by Park Ward. Founded in 1919, Park Ward had forged its not inconsiderable reputation bodying Bentleys, Rolls-Royces and other quality makes, and in 1933 received the ultimate 'vote of confidence' when Rolls-Royce bought a minority stake in the Willesden-based coachbuilder, taking full control six years later.

Accompanying copy chassis cards show that 'B109CW' was supplied new to Bernard Rubin, the wealthy 'Bentley Boy' who had shared the famous Le Mans-winning 4½-Litre car, 'Old Mother Gun', with Woolf Barnato in 1928. Born in Australia, Rubin came to Britain with his family in 1908 and first raced in May '28 at Brooklands, finishing 6th in the Six Hours. Despite being injured in a racing accident in 1929 he continued his involvement with the sport, sponsoring the competition career of fellow 'Bentley Boy' Sir Henry 'Tim' Birkin. Bernard Rubin died of tuberculosis on 27th June 1936, only 17 months after taking delivery of 'B109CW'.

A matching numbers example, the Bentley benefits from past restoration by Antique Automobiles Ltd and remains in very original condition. The engine incorporates new pistons from Fiennes Restoration Ltd and the car also benefits from the provision of a stainless steel exhaust system. A complete leather-bound history file containing photographic documentation of the work is included in the sale.

A lovely 'Derby' Bentley, elegantly bodied by one of the best of British coachbuilders, 'B109CW' comes complete with tool kit and is offered with the aforementioned documentation, sundry service invoices and UK V5 registration document for the number 'BLT 410'. In finest traditions of the marque, this car is equally at home being driven to the opera or competing in historic competitions such as the Mille Miglia Retrospective.