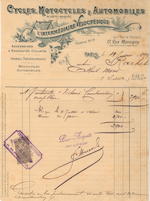 Anciennement propriété de la Collection Reserve des Frères Ward
1899 Victoria Combination 2¼hp
Engine no. 8890
Construite par Les Cycles de la Société Parisienne, la Victoria Combination était aussi commercialisée sous la marque Eureka. Cet exemplaire fut vendu aux enchères au Royaume-Uni en 1969, date à laquelle il fut précisé qu'il provenait de France et qu'il n'avait eu en fait qu'un seul propriétaire depuis l'origine. Le catalogue mentionnait que le moteur De Dion 2 ¼ HP installé à l'origine avait été remplacé peu après par un 3 ½ HP. Nous estimons que le moteur actuel est probablement le type 2 ¼ HP d'origine.

Détail intéressant, ce véhicule est accompagné de sa facture d'origine en date du 19 juillet 1899 et d'autres documents indiquent qu'il a été utilisé jusqu'en 1922. L'acheteur de 1969, le deuxième propriétaire, qui a conservé la Victoria jusqu'en 2008 , a participé au Londres-Brighton en 1985, 1989 et 2007 et remporté un prix au Regent Street Concours d'élégance lors de cette dernière participation.

Ce véhicule porte une plaque au nom de Henri Rachel d'Athis Mons, nom qui apparaît sur la facture comme étant celui du premier acheteur. La carrosserie en bois vernis est complétée par une capote de chariot en cuir et par une sellerie en drap vert et la voiture est aussi équipée de lanternes de côté en laiton de marque Lutèce et d'une trompe à poire. Achetée à la vente Bonhams de la Collection Reserve des Frères Ward en juillet 2009, ce magnifique et rare ancêtre est accompagné de son passeport FIA et d'un excellent dossier historique contenant de nombreuses factures très anciennes.

Formerly the property of the Ward Brothers Reserve Collection
1899 Victoria Combination 2¼hp
Engine no. 8890

The Victoria Combination was built by Les Cycles de la Société Parisienne and also sold as the Eureka. This example was sold at auction in the UK in 1969, at which time it was noted that it came from France and effectively had had only one owner from new. The catalogue stated that a 2¼hp De Dion Bouton engine was fitted originally, this having been upgraded to 3½hp early in the car's life. We feel that the engine currently fitted is probably its original 2¼hp type.

Remarkably, this vehicle comes with its original invoice dated 19th July 1899 while others on file indicate that it remained in use until 1922. The buyer in 1969, its second owner, retained the Victoria until 2008 and participated in the London-Brighton Veteran Car Run in 1985, 1989 and 2007, winning a prize in the prestigious Regent Street Concours d'Élegance on the last occasion.

This vehicle carries a plaque bearing the name Henri Rachel at Athis Mons; this name being shown on the invoice as its original purchaser. The varnished wood coachwork is complemented by a leather cape cart hood and green cloth upholstery, and the car is also equipped with brass side lamps by Lutece and a bulb horn. Purchased at Bonhams' sale of the Ward Brothers Reserve Collection in July 2009 (Lot 172), this splendid Victorian vehicle comes with FIVA passport and an excellent history file containing many early invoices.