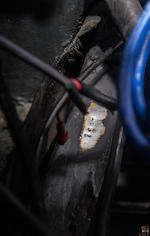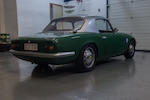 1964 Lotus Elan Roadster
Chassis no. SB1698
L'Elite de construction monocoque en fibre de verre s'étant montrée insuffisamment rigide pour supporter une transformation en cabriolet, le patron de Lotus, Colin Chapman, conçut un châssis-poutre simple et efficace pour la nouvelle Elan.

Lancée en octobre 1964, l'Elan était vendue toute montée ou proposée en kit à moindre coût. Elle disposait d'une suspension à quatre roues indépendantes avec des triangles inégaux à l'avant, tandis qu'un large triangle inférieur combiné avec un bras Chapman modifié, inspiré des Lotus de Formule 1, était utilisé à l'arrière. La direction à crémaillère était empruntée à la Triumph Vitesse et on trouvait des freins à disque aux quatre roues. Le moteur de l'Elan, Un 1,498 cm3 (puis 1,558 cm3) emprunté à la Ford Cortina, était profondément modifié avec une culasse à double arbre à cames en tête Lotus, le différentiel et la boîte de vitesses étant également d'origine Ford. Comme on pouvait s'y attendre, compte tenu de ses origines et de ses caractéristiques, l'Elan se montrait très efficace sur circuit et, capitalisant sur les nombreuses victoires obtenues par des pilotes privés, Lotus proposa sa propre version - la 26R - en 1964.

Cette très jolie Elan conduite à gauche aux numéros correspondants est peinte en vert Lotus avec un intérieur noir et rouge, doté de beaux sièges baquets et d'un hardtop. La documentation comprend diverses factures de spécialistes, une carte grise belge et son passeport historique et technique de la FIA. On notera que ce dernier indique que la voiture est équipée de carburateurs Weber, alors qu'elle est actuellement doté de carburateurs SU.

1964 Lotus Elan Roadster
Chassis no. SB1698

An Elite-type glassfibre monocoque having proved insufficiently rigid when applied to an open car, Lotus boss Colin Chapman came up with a simple but effective steel backbone frame for the company's new Elan sports car.

Launched in October 1962, the Elan was available as a complete car or as a kit at reduced price. Suspension was independent all round with unequal-length wishbones at the front, while a wide-based lower wishbone and modified Chapman Strut, as used in Lotus Grand Prix cars, was employed at the rear. Rack-and-pinion steering was sourced from the Triumph Vitesse and there were Girling disc brakes all round. The Elan's engine was a highly modified 1,498cc (later 1,558cc) Ford Cortina unit incorporating Lotus's own twin-camshaft cylinder head, and both the gearbox and differential came also from Ford. As one would expect, given its background and specification, the Elan proved to be a highly capable circuit racer, and capitalising on the numerous successes achieved by privately entered cars, Lotus introduced their own version - the '26R' - in 1964.

This left-hand drive, matching-numbers Elan is finished in Lotus Green with red/black interior, the latter featuring bucket seats, and comes complete with hardtop. Accompanying documentation consists of sundry invoices from various specialists, Belgian Carte Grise and FIA Historic Technical Passport. It should be noted that the latter shows the engine fitted with Weber carburettors, whereas SUs are fitted at present.
Saleroom notices
Belgian registration paper is only a copy. also, FIA passport is only a copy.