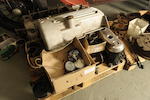 1926 Minerva AG 16hp Torpédo Falkinnet «à restaurer»
Chassis no. 43231
Minerva – la « Déesse des Automobiles » - demeure le fleuron de l'industrie automobile belge autrefois très active. Fondée à Anvers en 1897 par le Hollandais Sylvain de Jong, Minerva débuta par la production de cycles avant de se diversifier dans la production de moteurs auxiliaires fournis à d'autres constructeurs puis de passer peu à peu à la fabrication de sa propre automobile vers le tournant du xxe siècle.

De Jong fonda Minerva Motors SA en 1902 puis sa société passa de la fabrication de voiturettes à des types de plus en plus importants et luxueux. Très vite après la fin de l'occupation allemande lors de la Grande Guerre, l'usine Minerva reprit la production de grandes et luxueuses voitures. Puis apparurent des Minerva plus petites : une quatre-cylindres deux litres en 1923 et une six-cylindres similaire en 1927. Les grandes automobiles restèrent néanmoins la spécialité de la marque, mais les temps difficiles arrivèrent vers 1930 pour les constructeurs de modèles de luxe. La situation de Minerva se dégrada peu à peu et, en octobre 1935, elle fusionna avec le seul autre constructeur belge survivant, Imperia. Les Minerva furent encore produites pendant un an ou deux et après la Seconde Guerre mondiale, la société produisit des Land Rover sous licence pour l'Armée belge.

Cette Minerva AG qui date de 1926 est propulsée par un moteur quatre cylindres de 2,255 cm3. Vendue strictement dans l'état où elle se trouve –partiellement démontée – elle est à restaurer. La documentation qui l'accompagne se limite à un reçu des douanes belges.

1926 Minerva AG 16hp Falkinnet Tourer 'Project'
Chassis no. 43231

Minerva - the 'Goddess of Automobiles' - was the finest make produced by Belgium's once vibrant motor industry. Founded in Antwerp in 1897 by Dutchman, Sylvain de Jong, Minerva began life as a bicycle maker, swiftly diversifying into the manufacture and supply of proprietary motorcycle engines before building its first powered automobile around the turn of the 20th Century.

De Jong set up Minerva Motors SA in 1902 and thereafter his company progressed from being a manufacturer of engaging 'driver's cars' to one that looked more towards the chauffeur-driven carriage trade. Swiftly back on its feet following the German occupation of WWI, Minerva returned to making large, luxurious motor cars. Smaller Minervas appeared: a 2.0-litre four in 1923 and a similar-sized six in 1927. Larger models continued to be a speciality but hard times lay ahead for the world's luxury car manufacturers. Minerva's fortunes declined steadily and in October 1935 it merged with Belgian's only other surviving motor car manufacturer, Imperia. Minervas continued to be made for another year or two and after WW2 the company produced Land Rovers under licence for the Belgian Army.

This Minerva AG dates from 1926 and is powered by a 2,255cc four-cylinder engine. Sold strictly as viewed, the car is presented in partially dismantled form and is offered for restoration. Accompanying documentation consists of a Belgian customs receipt.
Footnotes