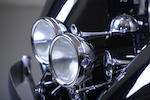 Anciennement dans la Jerry J Moore Collection
1928 Rolls-Royce Phantom I Playboy Roadster
Coachwork by Brewster
Chassis no. S205RM
La politique du « type unique » pratiquée par Rolls-Royce s'était traduite par un extraordinaire succès pour la firme, mais au lendemain même de la Grande Guerre, la récession qui frappa le secteur automobile conduisit à l'introduction d'une voiture de 20 HP plus petite et moins chère devant être produite parallèlement à la grande 40/50 HP Silver Ghost existante. Le nouveau modèle d'Henry Royce était doté d'un certain nombre de caractéristiques modernes telles que des soupapes en tête sur le moteur à six cylindres, un sélecteur de vitesse central et un pont arrière type « Hotchkiss » (poussée et réaction par les ressorts). L'arrivée du nouveau modèle ne fit que souligner les archaïsmes de la Silver Ghost. Mais le type 40/50 allait bientôt bénéficier des développements expérimentés sur la « petite » Rolls-Royce.

Introduite par Rolls-Royce en 1925 pour remplacer la Silver Ghost, la New Phantom (appelée rétrospectivement Phantom I) bénéficiait d'un nouveau moteur six cylindres à soupapes en tête de 7 668 cm3 de cylindrée et, comme la 20 HP contemporaine, d'un embrayage à disque et de volets de radiateur à réglage thermostatique. Mais le châssis qui demeurait essentiellement semblable à celui de la plus récente Silver Ghost à freins sur les quatre roues continua pratiquement inchangé jusqu'à l'arrivée de la Phantom II en 1929 construite, elle, sur un tout nouveau châssis.

Comme sa devancière, la 'Ghost, la New Phantom fut aussi produite par Rolls-Royce of America Incorporated, filiale fondée en décembre 1919 lorsque la société mère racheta l'usine de l'American Wire Wheel Company de Springfield (Massachusetts). Springfield commença à produire la New Phantom en 1926 et, dans la seconde moitié de 1929, la production atteignit 12 voitures par semaine. Ce devait être l'apogée des activités de Rolls-Royce of America, le krach de Wall Street du 29 octobre et le lancement de la Phantom II – pour laquelle la société américaine ne put financer le rééquipement de l'usine - marquant le début du déclin. La Phantom I ne resta en production que cinq ans seulement et les modèles construits à Derby parallèlement aux voitures de Springfield s'arrêtèrent en 1929, tandis que les Rolls américaines vécurent jusqu'en 1931.

Contrairement à leurs homologues de fabrication britannique, le produit américain pouvait être commandé avec une carrosserie « d'usine », généralement exécutée par Brewster, cette firme ayant été reprise par Rolls-Royce en décembre 1925. Fabricant de carrosseries de la plus haute qualité, Brewster avait aussi produit des automobiles sous sa propre marque de 1915 à la date de son acquisition par Rolls-Royce avant de refaire surface comme constructeur à part entière - en utilisant des châssis Ford - lorsque la production de la Phantom américaine s'arrêta définitivement en 1934. La société fit alors partie de la Springfield Manufacturing Corporation restructurée.

Le châssis n° « S205RM » fut livré neuf habillé d'une carrosserie tourisme six places presque certainement réalisée par Brewster avant de retourner à l'usine pour y être carrossé à nouveau. À l'époque, Rolls-Royce of America observait une politique de rachat de voitures de prestige à faible kilométrage pour les revendre rhabillés de carrosseries sportives d'un style plus à la mode. La carrosserie « Playboy » de Brewster fut créée à cette fin et la voiture proposée ici est une des vingt-huit construites seulement sur châssis Silver Ghost et New Phantom. De nos jours, la « Playboy » est reconnue comme l'une des carrosseries les plus séduisantes de Rolls-Royce of America.

La copie des détails du châssis figurant au dossier mentionne que la Phantom appartint à l'origine à un nommé Cox, dans l'Ohio, et que la carrosserie Playboy fut installée alors que la voiture appartenait à William Ockrant, après avoir habillé le châssis « 167ML » de M. Ockrant. Les propriétaires ultérieurs connus sont Charles E. Wiedenbusch de Morgantown (West Virginia), Rick K. Carroll de Jensen Beach (Floride) et Claude W. Brocker de New York City. Jerry J. Moore de Houston (Texas) figure comme propriétaire sur le « Certificate of Title » de l'état émis en 1992 qui accompagne la voiture.

Self-made man, multimillionnaire et promoteur dans l'immobilier d'entreprises, Jerry J. Moore fut un des Américains parmi les plus riches et probablement le plus riche habitant de Houston. Moore était réputé habiter un château du milieu du xixe siècle qu'il avait acheté en France et fait démonter pour l'expédier outre Atlantique à Houston où il fut reconstruit par des artisans français spécialement engagés. Il fut aussi un collectionneur forcené d'automobiles qui amassa une collection d'importance mondiale de plusieurs centaines de voitures qui, à un certain moment, comprit la Bugatti Royale de 1931 acquise pour 6,5 millions de dollars, prix record mondial pour une auto à l'époque. Moore décéda en novembre 2008 âgé de 80 ans.

Cette extraordinaire Playboy Roadster est peinte en noir avec intérieur en cuir crème et touches de rouge. Le « Certificate of Title » susmentionné précise que la voiture a été expédiée à son nouveau propriétaire en Belgique en 1999 après un séjour d'environ sept ans dans la Jerry J. Moore Collection.

Formerly from the Jerry J Moore Collection
One of a mere 28 built
1928 Rolls-Royce Phantom I Playboy Roadster
Coachwork by Brewster
Chassis no. S205RM

Rolls-Royce's 'single model' policy had proved an outstanding success for the company, but immediately after the end of The Great War the recession in the motor trade prompted the introduction of a smaller, cheaper 20hp car to be built alongside the existing 40/50hp Silver Ghost. Henry Royce's new design incorporated a number of modern features such as overhead valve-gear for its six-cylinder engine, a centre-change gearbox and 'Hotchkiss drive' rear axle, and the advanced newcomer's arrival only served to emphasise the Silver Ghost's Edwardian origins. However, the 45/50hp model would soon benefit from developments pioneered on its smaller sibling.

Introduced by Rolls-Royce in 1925 to replace the Silver Ghost, the New Phantom (retrospectively known as the Phantom I) boasted an entirely new overhead-valve six-cylinder engine displacing 7,668cc and, like the contemporary 20hp model, adopted a disc-type clutch and adjustable radiator shutters. Its chassis though, remained essentially the same as that of the later, four-wheel-braked Silver Ghost and would continue fundamentally unchanged until the arrival of the Phantom II in 1929 brought with it an entirely new frame.

Like its 'Ghost predecessor, the New Phantom was also produced by Rolls-Royce of America Incorporated, a subsidiary set up in December 1919 when the parent company purchased the American Wire Wheel Company's plant in Springfield, Massachusetts. Springfield commenced manufacture of the New Phantom in 1926 and by the second half of 1929 production had risen to 12 cars per week. This would prove to be the high point of Rolls-Royce of America's fortunes, the October '29 Wall Street Crash and the introduction of the Phantom II - re-tooling for which the US company could not afford - signalling the beginning of its decline. The Phantom I was in production for only five years and the Derby-built models ran parallel with the Springfield cars but ended in 1929, whereas the Americans continued until 1931.

Unlike its British-built counterpart, the American product could be ordered with 'factory' bodywork, usually by Brewster, the latter company having been taken over by Rolls-Royce in December 1925. As well as manufacturing coachwork of the highest quality, Brewster had built its own automobiles from 1915 up to the time of its acquisition by Rolls-Royce, re-emerging as an auto-maker in its own right, using Ford chassis, when US Phantom production finally ceased in 1934 and the company became part of the reconstituted Springfield Manufacturing Corporation.

Chassis number 'S205RM' was delivered new fitted with six-seater touring coachwork, almost certainly by Brewster, and later was returned to the factory for re-bodying. At this time Rolls-Royce of America had a policy of repurchasing low-mileage 'formal' cars and reissuing them with sporting bodies of more fashionable style. Brewster's 'Playboy' body was used exclusively for this purpose and the car offered here is one of only 28 built on the Silver Ghost and New Phantom chassis. Nowadays the 'Playboy' is acknowledged as one of the most attractive of all Rolls-Royce of America body styles.

Copy chassis details on file record that the Phantom originally belonged to an owner called Cox, in Ohio, and that the Playboy body had been fitted while the car belonged to William Ockrant, having previously been on Mr Ockrant's chassis '167ML'. Subsequent owners listed are Charles E Wiedenbusch of Morgantown, West Virginia, Rick K Carroll of Jensen Beach, Florida and Claude W Brocker of New York City. Jerry J Moore of Houston, Texas is recorded as owner on the accompanying State of Nevada Certificate of Title, issued in 1992.

A self-made, multi-millionaire, commercial real estate developer, Jerry J Moore was one of America's richest men and reputedly Houston's most wealthy. Moore famously lived in a mid-19th Century chateau that he had bought in France and had dismantled and shipped across the Atlantic to Houston where it was painstakingly reconstructed by specially commissioned French craftsmen. He was also an avid car collector, amassing a world-class collection running to several hundred, which at one time included the 1931 Bugatti Royale he bought for $6.5 million, a world record price for an automobile at that time. Moore died in November 2008 aged 80.

This striking Playboy Roadster is finished in black with cream leather interior and red detailing. The aforementioned Certificate of Title records that the car was shipped to its new owner in Belgium in 1999, having been in the Jerry J Moore Collection for some seven years.