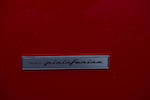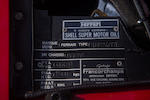 Anciennement la propriété de Jacques Swaters
1973 Ferrari Dino 246 GT Berlinetta
Coachwork by Pininfarina
Chassis no. 06626
Engine no. 11071
Au milieu des années 1960, Ferrari se trouva dans l'obligation de produire un moteur de deux litres issu d'un type de production pour la nouvelle Formule 2 et il conçut la Dino à moteur central pour disposer de la base nécessaire. La première de ces Ferrari « junior », la 246 GT, fit ses débuts au Salon de Turin 1967. Tenant compte de l'expérience acquise avec la Dino 206 S sport compétition produite en série limitée en 1966, Ferrari conserva l'architecture à moteur central pour la routière, mais installa le groupe transversalement et non pas longitudinalement.

Coupé compact à carrosserie en aluminium d'un style très séduisant, la Dino dessinée par Pininfarina – portant le nom du fils décédé d'Enzo Ferrari, Alfredino, et destinée à constituer une marque séparée, mais associée – était propulsé par un moteur V6 à 4 ACT de 2 litres attaquant une boîte-pont transversale à cinq rapports. Les 180 ch du moteur suffisaient à propulser cette Dino légère et bien profilée à 225 km/h, mais si les performances ne furent pas critiquées, le coût de fabrication élevé entraîné par l'emploi de l'aluminium freina les ventes.

Une version 2,4 litres sur empattement allongé – la 246 GT – remplaça la 246 à la fin de 1969. La caisse était désormais en acier et le bloc cylindre en fonte au lieu de l'aluminium, mais le gain de puissance – 195 ch à 7 600 tr/min - suffisait à compenser l'augmentation du poids car la vitesse de pointe de la Dino s'éleva à 240 km/h. Une version avec toit Targa, la 246 GTS, suivit en 1972. Sans être aussi rapide en ligne droite que ses grandes sœurs à moteur V12, l'agile Dino se permettait de tenir en respect presque toutes les autres voitures sur route sinueuse. Vraiment, une voiture de pilote par excellence.

En tant que premières Ferrari de production à moteur central, les premières Dino V6 sont des modèles historiquement importants. La lignée qu'elles ont fondée allait connaître un énorme succès commercial avec une production qui atteignit 2 487 coupés GT et 1 274 spyders GTS jusqu'à l'abandon du modèle en 1974.

Cet exemplaire à numéros concordants a été livré neuf en Belgique en juillet 1973, par l'importateur Ferrari officiel, Garage Francorchamps, à M. Jean Oury. En février 1989, la Dino fut rachetée par le propriétaire du Garage Francorchamps, M. Jacques Swaters, qui la conserva dans son musée. Affichant actuellement au total 36,298 km au compteur, la voiture, complètement restaurée en 1998 par le Garage Francorchamps, est décrite comme étant en excellent état général. Cette superbe Dino, peinte dans sa teinte d'origine, rouge, avec intérieur en cuir noir, est offerte avec des photos de sa restauration, le certificat de conformité Ferrari, les papiers d'immatriculation belges et un copieux dossier de factures, la plus récente datant du 24 mai 2012.

1973 Ferrari Dino 246GT Berlinetta
Coachwork by Pininfarina
Chassis no. 06626
Engine no. 13505

In the mid-1960s, Ferrari needed a production-based 2-litre engine for the new Formula 2 and conceived the mid-engined Dino to provide the necessary basis. The first of these 'junior' Ferraris – the 206GT – debuted at the Turin Motor Show in 1967. Building on experienced gained with its successful limited edition Dino 206S sports-racer of 1966, Ferrari retained the racer's mid-engined layout for the road car but installed the power unit transversely rather than longitudinally.

A compact, aluminium-bodied coupé of striking appearance, the Pininfarina-styled Dino - named after Enzo Ferrari's late son Alfredino Ferrari and intended as the first of a separate but related marque - was powered by a 2.0-litre, four-cam V6 driving through an in-unit five-speed transaxle. The motor's 180bhp was good enough to propel the lightweight, aerodynamically-efficient Dino to 142mph and while there were few complaints about its performance, the high cost enforced by its aluminium construction hindered sales.

A 2.4-litre version on a longer wheelbase - the 246GT - replaced the Dino 206 in late 1969. The body was now steel and the cylinder block cast-iron rather than aluminium but the bigger engine's increased power - 195bhp at 7,600rpm - was more than adequate compensation for the weight gain, as the Dino's top speed increased slightly to within a whisker of 150mph. A Targa-top version, the 246GTS, followed in 1972. While not as fast in a straight line as its larger V12-engined stablemates, the nimble Dino was capable of showing almost anything a clean pair of heels over twisty going. Truly a driver's car par excellence.

As the first series-produced, mid-engined Ferraris, the early Dino V6s are landmark cars. The line that they founded would prove to be an immense commercial success for Maranello, production amounting to 2,487 GT coupés and 1,274 GTS spyders by the time the model was deleted in 1974.
This matching-numbers example was delivered new in Belgium in July 1973 by the official Ferrari importer, Garage Francorchamps, to Mr Jean Oury. In February 1989 the Dino was repurchased by Garage Francorchamps' proprietor, Mr Jacques Swaters, and remained in his museum since. Currently displaying a total of only 36,298 kilometres on the odometer, the car was completely restored in 1998 by Francorchamps Garage and is described as in generally excellent condition. This beautiful Dino is finished in its original livery of red with black leather interior, and is offered with restoration photographs, Ferrari certificate of conformity, Belgian registration papers and sundry service invoices, the most recent dated 24th May 2012.
Saleroom notices
Please note there are no restoration phtographs within the vehicle's file.