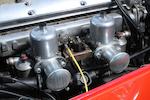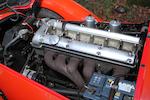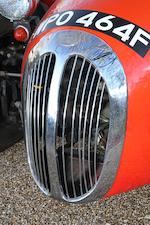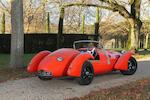 1968 Kougar Jaguar Sports deux places
Chassis no. 01260986S
Engine no. 7A33092-8
Depuis sa présentation en 1977, la Kougar Sports permettait aux enthousiastes d'acheter une sportive de style classique. Magnifiquement finie et forcément très chère (plus de 3 000 £ à son lancement), la Sports était construite à l'origine sur une base de Jaguar S-Type. Le châssis était de type tubulaire sur lequel reposait une carosserie deux places sans portes en fibre de verre. Qu'elle reçoive un six ou un huit cylindres, la Kougar, très légère, affiche des accélérations phénoménales et offre à son conducteur une expérience de conduite unique. Il s'agit là d'une pièce classique à la conception originale, associée à un tempérament sportif, ce qui a vraisemblablement motivé l'achat de M. Brown. Reprenant l'identité d'une Daimler mise en circulation en avril 1968, la voiture a probablement été « Kougarisée » avant ou pendant que George Baggs de Hailsham au Royaume-Uni en était le propriétaire, entre 1985 et 1989. Elle passa ensuite aux mains de John Rogers de Canterbury, puis dans cette collection en mai 1992.

On pourra toujours estimer que le fameux journaliste américain David E. Davis a donné une excellente image à ces voitures. Commentant son expérience personnelle dans Road & Track dans un article sous-titré « Non madame, ce n'est pas une Mercury, c'est une Kougar avec un K ! faites vérifier votre vue. », il y décrit parfaitement la voiture « Elle n'a pas de pare-brise, pas d'essuie-glace, pas de portes, pas de réglage des sièges, pas d'insonorisation d'aucune sorte, pas de radio, pas de chauffage (quoiqu'elle n'en ait pas besoin) et pas de jauge à essence. Elle est tout simplement parfaite... Le bruit de son énorme moteur est le son le plus agréable depuis E. Power Biggs jouant la toccata et fugue en ré mineur de Bach... La tenue de route et le comportement sont au niveau de ce que l'on fait aujourd'hui, la voiture n'a pas de défaut notable – elle se conduit comme une automobile normale et elle vous en donne chaque fois pour votre argent. »

C'est ce genre de sensation qui attend le futur propriétaire.

1968 Kougar Jaguar Sports Two Seater
Chassis No. 01260986S
Engine No. 7A33092-8

Since its introduction in 1977, the Kougar Sports has represented the opportunity for enthusiasts to acquire a traditionally styled sportscar. Beautifully finished and necessarily very expensive (over £3,000 at launch) the Sports was originally based on Jaguar S-Type components. The chassis was a tubular spaceframe, around which was wrapped door-less, two-seater coachwork in glassfibre. Whether constructed in six- or eight-cylinder form, the lightweight Kougar possesses formidable acceleration and affords owners an involving and exciting driving experience. Another classic case of intriguing design coupled with sporting connotations, which is no doubt why it was acquired by Mr. Brown. Taking the identity of a Daimler which originally took to the roads in April 1968, the car would probably have been Kougar-ised before or during the ownership of George Baggs of Hailsham, in the U.K. who owned it from 1985-1989. Later it passed to John Rogers of Canterbury, and then into this collection in May 1992.

It could be argued that legendary American journalist David E. Davis had the best soundbites on these cars. Speaking from personal experience he commented in Road & Track in an article sub-captioned "No, ma'am. It is not a Mercury. It is a Kougar. With a K! It will separate your retinas," he sums the car up perfectly: "it has no top, no windshield, wipers, no doors, no seat adjustment, no sound-deadening insulation of any kind, no radio, no heater (not that it needs one) and no fuel gauge. It is just about perfect. . . The great whomping engine note is the best sound this side of E. Power Biggs playing Bach's Toccata and Fugue in D Minor . . . The handling and road holding are up to modern standards, and the car has no quirks – you drive it as though it were just a regular automobile, and it rewards you with a memorable ride every time."

Such future experiences await the new owner of this car.
Footnotes