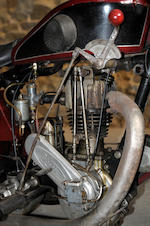 1930 Styl'son Type 350 RH
Registration no. 5154 VG 61 (formerly 501 EP 38)
Frame no. RH149
Engine no. CS1688
Styl'son motorcycles - the Anglicised punctuation was deliberate - were made in the Loire district of France at Le Chambon Feugerolles. They were a small firm, in production only from 1919-1934, who made very sporting and distinctive machines in what was often a 'British' style, using proprietary engines and other components from Britain and from France. The character of the Styl'son has meant that the relatively few examples surviving are very keenly sought after by collectors who revere their riding qualities.

This Styl'son is an example of their RH series of 1929-31 which used the powerful and accelerative Blackburn single-port OHV engine made in Surrey, England, and a rarity in its own right. The gearbox was also English, a Burman hand-change, three-speed, while the frame and forks came from AYA of St. Etienne, the lower tank-tube being 'bridged' to accommodate the Blackburne overhead-valve gear. This good-looking, light and compact machine had excellent manners, helped by the 180mm brakes.

Presented in an as found 'dans son jus' condition after an earlier part restoration to running condition in which the Styl'son was hand-painted, the RH' features lighting by Marchal, a Morel D1 magneto, a Mikro oil-pump and the 'Sports' mudguards. The original silencer is missing but can be replaced if desired. 'As British as they come' might be an apt description of this most appealing French sports motor cycle.
Footnotes
Saleroom notices
La machine est propose avec Certificat d'immatriculation. This machine is now offered with Certificat d'immatriculation.