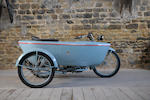 c.1917 Harley-Davidson 1,000cc Model F Motorcycle Combination
Registration no. 2943 SY 61
The year 1909 marked the appearance of Harley-Davidson's first v-twin, though it was not until the adoption of mechanically operated inlet valves in 1911 (replacing the 'atmospheric' type inherited from the single) that production really took off. Known by the soubriquet 'pocket valve', this inlet-over-exhaust engine - built in 61 and 74cu in capacities - would remain in production for the next 20 years. The need to make better use of the engine's power characteristics, particularly for sidecar pulling, prompted the introduction of a two-speed rear hub for 1914, by which time chain drive and a proper clutch had been adopted. Later that same year a conventional, three-speed, sliding-gear transmission with 'step starter' was introduced on the top-of-the-range version of the twin which, with full electrical equipment, was listed from now on as the Model J.
Attached to a fabulous, bathtub-style sidecar, the restored Harley-Davidson v-twin offered here is an example of the three-speed, magneto-equipped Model F, which when new was priced at $30 less than the Model J. Up to 1970, Harley-Davidsons had engine numbers only (frames were not numbered in period) but this one's left-side crankcase has been replaced with an unstamped part and thus the number has been lost. Noteworthy features include a Birma headlamp and an E A Laboratories Inc 'Warning Signal' horn. The machine is offered with copy brochure, purchase receipt (dated December 1999), French Carte Grise normale and copy old CG.
Footnotes
Saleroom notices
La machine est vendue avec son certificat d'immatriculation, mais pas la carte grise comme indiquée au catalogue. The machine is offered with a Certificat d'immatriculation, not a Carte Grise as stated in the catalogue.