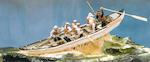 A diorama "The Designated Hour"
Rex Stewart (American, 20th century)
carved in wood, painted and detailed with rope, paper and metal to produce this dramatic scene of a U.S. Life-Saving Service surfboat and crew, circa 1905 out to perform a rescue at sea.
28 x 14 x 18 in. (71.1 x 35.5 x 45.7 cm.) cased.