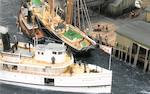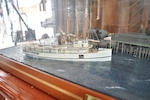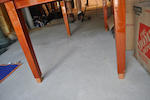 A diorama "Frenchman's Bay Rendezvous" - Moosehead
William E. Hitchcock (American, 1928-2006)
depicting the steamers Moosehead, the coasting schooner Winchester, and the tug boat Round Too, each built up in 1/8 in.= 1 ft. (HO) scale, in wood, painted and fitted with various details, figures and trains from the Maine Central Railroad, buildings and other details. Displayed in a glazed brass case on wood base.
41-3/4 x 17-1/8 x 21-3/4 in. (106 x 43.4 x 55.2 cm.) cased.
Footnotes