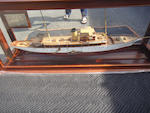 A mirrored back presentation half model of the steam yacht Lyndonia
American, 20th century
the hull built up in lifts, painted with a red bottom, white topsides with an applied gold sheer stripe, inset port holes, anchor, gangway, owner's launch on davits and swung out oveer the side, built up cabin structures, with windows and doors, bridge and bridge wing, ventilators and funnel, masts, rigging and other details. Mounted on a mirror within a mahogany framed glass display case with a silvered display plaque.
69 x 27-1/4 x 10-1/4 in. (175.2 x 69.2 x 26 cm.) cased.
Footnotes