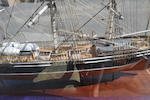 A folk art model of an American clipper ship
American, early 20th century
the hull of the model built up from the solid with copper painted bottom, black topsides, a white waterline and waist band, the decks detailed with: anchors, anchor chain, capstan, windlass, pin and fife rails, deck houses, water casks, coach houses, ship's boats lashed to deck houses, companionway, ship's wheel and other details. The model is rigged with bowsprit, three masts, cross spars, standing and running rigging turning blocks and more. Displayed in a mahogany based case with glass and brass trim.
35-1/4 x 26-3/4 x 11-3/4 in. (89.5 x 67.9 x 29.8 cm.) cased.