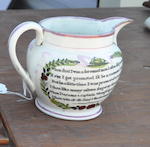 A pearlware "Liverpool" jug
mid-19th century
with luster and transfer-printed maritime decoration, and inscribed "When first I was a foremast man I often did pretend if I e'er got promoted I'd be a seamans friend. But in a little time I was promoted to be mate. I then like many others forgot my former state. When I became a Captain I thought myself a King. I then entirely did forget the foremast man I'd been."
4-1/2 in. (11.5 cm.) height.