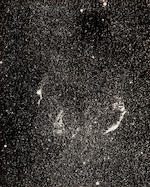 PEASE, FRANCIS GLADHEIM. 1881–1938.
3 large views of deep space, from Mount Wilson Observatory, near Pasadena, CA, c.1920, gelatin silver prints mounted, 19 x 15 inches (480 x 380 mm).

Three stunning images taken through the 100-inch Hooker Telescope, the largest telescope in the world from its completion in 1917 until 1948. The mounts suggest these prints were produced for exhibition purposes.