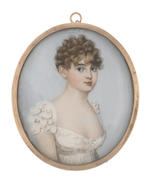 Frederick Buck (Irish, 1771-circa 1840)
Two miniatures portraying Captain Edward Spread Mockler, Grenadier Company of the 46th (South Devonshire) Regiment of Foot (b. circa 1776-1837) and a Lady: the former wearing red coat with pale yellow facings and silver epaulettes, white regimental cross-belt and oval regimental breast plate numbered 46, white chemise, black stock and cravat, his hair lightly powdered; the latter, wearing white dress with capped gathered sleeves and lace trim to her décolleté, her hair upswept and curled.
Gold frames, the reverse of the former glazed to reveal gilt-metal monogram M on plaited hair.
Oval, 60mm (2 3/8in) high
Provenance: The former sold Sotheby's, London, 25 July 1966, lot 50.
Footnotes