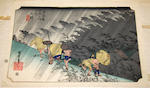 A collection of thirteen Japanese woodblock prints, various artists and subjects including:
Toyokuni I, two actors 36 x 25cm; Toyokuni II, two actors 37 x 25.5cm; Kuniyoshi, one of a lady and one of a warrior 25 x 18cm; and others by Hiroshige, Shunsho etc. (13).
Saleroom notices
Please note that there are 16 items in this lot.