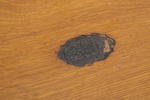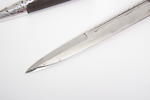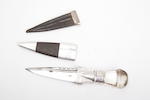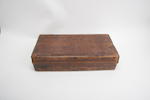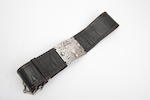 The Anthony George Maxtone Graham of Cultoquhey cased Highland dress set

Comprising: dirk; skean dhu; sporran; waist belt; plaid brooch and kilt pin, all contained within a fitted oak and purple velvet lined case, with leather cover embossed 'A, G, M, G', the lid interior applied with printed label bearing the arms of the Maxtone Graham of Cultoquhey & Redgorton, with motto' 'Providus esto Candide et Secure'.
The quartz mounted dirk, the 27cm plated blade with faceted back edge, double fuller and clip back point, the hilt engraved with Celtic designs, the pommel with faceted quartz stone, contained within its wooden leather covered scabbard with interlacing pierced designs and companion knife and fork en suite, the blade of the companion knife stamped 'John Sellers';
the quartz mounted skean dhu stamped to the rear 'Kirkwood Thistle St Edinburgh' decorated in a similar manner to the dirk;
the sporran with arched cantle pierced and engraved with Celtic designs and pierced raised bosses, multiple finials and mounted with the arms of the Maxtone Graham family, the bag of white fur with three mounted tassels, lined in doeskin, the cantle stamped to the rear 'R & H.B. Kirkwood 66 & 68 Thistle Street, Edinburgh', with silver suspender chain;
the silver mounted waist belt, 1893, Edinburgh, Kirkwood, the buckle pierced and engraved with interlacing Celtic designs, and three pierced and engraved bosses, centred with the arms of the Maxtone Graham family mounted on a dark green leather belt;
the plaid brooch, with dished pierced and engraved quoite mounted with four engraved bosses and centred with raised interlaced mounts with faceted quartz stone;
the kilt pin, the bar mounted with bosses at each end engraved with interlacing designs.

Footnotes