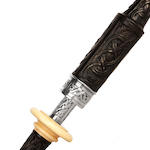 A set of ivory and silver mounted bagpipes
R.G. Lawrie,
Of carved ebonised wood with blue velvet covered leather bag, half mounted in silver with ivory mounts, the drone caps, stocks and drone ferrules, all in silver with interlaced zoomorphic Pictish designs, hallmarked, Sheffield, 1910, R.G. Lawrie, the tuning slides hallmarked, R.G. Lawrie , Glasgow, 1962, the chanter stamped 'R G Hardie, Glasgow' the sole hallmarked, Glasgow, 1940, Peter Henderson, contained within an aluminium flight case.
Saleroom notices
Please note two of the tuning slides are hallmarked R.G. Lawrie, Glasgow 1962 the other are hallmarked Sheffield, 1910, R.G. Lawrie.