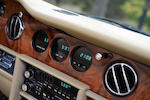 1987 Bentley Continental Convertible
Chassis no. SCBZD02A5HCX21123
• 6.75-liter V8
• Automatic transmission

• One of 421 Bentley Continentals produced
• Two owners from new
• Properly maintained by its current, long term owner

A key factor in Rolls-Royce's marketing strategy for the 1980s was the re-launch of Bentley. To rekindle interest in the marque, a glorious name from its past was resurrected - 'Continental' - and applied to the two-door model previously known, similarly to its Rolls-Royce equivalent, as the Corniche. An inspired move, the Bentley's 1984 name change had the desired effect; sales, which in the 13 years since the Corniche's launch had amounted to just 77 Bentley-badged cars; a total of 421 for the succeeding 11 years of Continental production.

The current owner purchased this rare derivative of Bentley from Michael Schudroff's renowned company Carriage House Motor Cars, when it was still located in New York City, back in 1992. At this point, a mere 5,200 miles were on the odometer and the car, the owner was told, was one that the dealership had supplied new and taken back in part exchange, so the mileage could be attested to.

Used locally in Westchester County, New York for approximately the next five years the car was relocated alongside its owner to neighboring Phoenix, Arizona. Over the course of the ensuing five years the car was serviced by Max of Switzerland on the Scottsdale Road. As for the late decade, upon a further move to Atlanta, Georgia, it has continued to be cared for by local Rolls, Bentley and European car specialists.

The result of this careful maintenance over the course of the last 20 years has been that the car remains in very fine order. It is reported never to have suffered from accident damage, and had no bodywork attention. The car still has original accessories including crystal glasses, flasks and bottle openers intact in the doors. For these reasons and its sheer rarity, as it heralds from the days when Bentley production was limited, relative to its Rolls counterpart, this is an all around great example of these timeless usable four passenger convertibles.