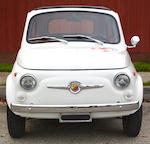 1970 FIAT-Abarth 595
Chassis no. 110F 2467823/2512
Engine no. 110F.0002960001 ABA205
• 595cc air-cooled twin-cylinder engine
• Four-speed manual transmission

• Folding sunroof
• Italian documentation of early ownership
• Attractively restored

Carlo Abarth's company found a key growth opportunity with the launch of the 4-cylinder Fiat 600 in 1955. Fiat's new family mini-sedan was a brilliant base for tuning and Abarth's 750cc version of the 633cc engine, sold in derivazione or "derivation" kits to dealers and garages for fitting into stock 600s proved wildly popular. Abarth was also a very clever businessman. His affordable 'performance cars' were ideal for the private entry racer, the quintessential "drive to the track, race and drive home" car. Through a sponsor partnership deal secured with Fiat, he was paid for every win or second place a "Fiat Abarth" scored.

Abarth also turned his magic to the 600s baby brother, the 500, which also arrived in 1955. The 500 name, made famous by the 'Topolino', now graced a sedan with an air-cooled two-cylinder engine of 499cc. The Abarth version became a 595cc, 38hp 'screamer', a far cry from the utilitarian city car on which it was based. As the modifications were available 'off the shelf', only those cars built by the Abarth factory also carried an additional chassis number specific to Abarth cars. This example carries such a number, stamped into the bodywork in the front hood compartment.

According to Italian registration documents supplied by the vendor, this Fiat Abarth 595 was registered by its first owner on June 20, 1970 in Florence, carrying plate number 622984FI. It was sold to its second owner on February 13, 1973 and in October of that year to its third keeper, when it was assigned a new plate number, 239317PG. In January 1974, March 1975 and February 1978 the Abarth changed hands again. The documentation shows that the registration was cancelled in March 1989 and the car was taken off the road.

At some point in the recent past, this Fiat was rebuilt and returned to the road. It features Abarth-style replica 'spider' alloy wheels, a period-style instrument pod with auxiliary gauges, a padded rim small-diameter Abarth steering wheel and short-throw shift lever. A folding sunroof affords virtual open-air motoring, as you put this little pocket rocket through its paces. Anyone who has driven an Abarth-modified 500 will attest that the numbers fail to adequately explain the pure driving pleasure these cars offer.