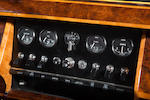 1960 Jaguar Mk II 2.4-liter Saloon
Chassis no. 125443DN
Engine no. BG3273-8
• 2.4-liter inline six-cylinder
• Four-speed manual transmission with overdrive

• Matching numbers example
• Incredibly thorough, documented restoration
• $120,000 in receipts
• A fine example of Jaguar's Mk II Sports Saloon

For mass-produced high-speed transportation in the 1950s, it was difficult to find a finer car than a Jaguar. Until recently, all Jaguar saloons since 1955 have owed a big debt of their elegance, speed, and style to the Mk I. But with autocratic co-founder Sir William Lyons designing all his cars (despite being untrained in drafting), his maxim of "Grace, Space, and Pace" found its groove with the updated Mk II.

Introduced in late 1959, the Mk II came with a selection of straight-six motors: 2.4-litres with 120 horsepower, a 3.4-litres with 90 more horses, or 3.8-litres with 220 horsepower, the latter two being shared with the XK series. When equipped with the big six, the Mk II was capable of 125 mph and 0-60 in less than nine seconds – seriously quick in its day, and faster than a many of the V8 behemoths being produced on these shores. Its speed was reigned in by disc brakes on all four wheels, standard equipment across the range. So respectable was the price/performance ratio of the Mk II that it developed a reputation as the getaway car of choice for numerous British criminals . . . and the pursuit vehicle of choice for the UK highway patrol of the time.

With 90,000 sold in ten years in all its variants, the Mk II was the most successful model to date for Jaguar. And, testament to the Mk II's timeless style, Jaguar used the Mk II's style as inspiration to produce the 1999-2008 S-Type.

This Mk II could arguably be considered the finest example available in North America. The restoration process left no bolt unturned and, with receipts totaling $120,000, the result is a stunning automobile from first glance to in-depth inspection. Purchased from an estate, this gentleman's saloon has matching numbers throughout plus the coveted Jaguar Heritage Certificate to attest to its originality. Other features include four-speed manual transmission with factory overdrive, original radio, and complete new interior including headliner and sun visors. The new trunk mat with original jack and tools are a reminder of Jaguar's workmanship and attention to detail. With only 63 miles recorded since restoration, this truly exceptional Mk II is perfect for making a weekend getaway and earning top awards at a show.
Saleroom notices
Please note that this vehicle is titled under body number H032170.