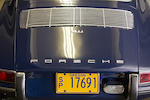 1967 Porsche 911 Coupe
Chassis no. 306382
Engine no. 911365
• 2-liter flat six-cylinder
• Manual transmission

• Rally prepared and upgraded early 911
• Porsche Certificate of Authenticity
• Unusual, attractive color combination

The most historically significant of all Porsche models, so far, has been the 911, which was introduced in 1964 and, in much the same form, was to be the mainstay of Porsche production for more than 30 years, albeit constantly modified and uprated. With broadly similar layout to the 356, the 911 had a steel platform chassis with springing by torsion bars, MacPherson front struts and rear trailing arms, and flat-6 air-cooled engine and 5-speed transmission first seen on the 904. More than 40 years later, early 911s continue to be competitive on circuit or special stage.

By 1967 the original 911 had evolved into a sophisticated and capable high performance machine equal to anything on the market. The two-liter motor now had Weber carburetors and the original coupe bodyshell was joined by a Targa variant. Although mass-produced by Italian sports car standards, just 3,421 911s were built in 1967 and like all short wheelbase, chrome bumper 911s, they are now sought after collectors items valued for the purity of line and driving experience alike.

As described by the vendor, this very nicely turned out 1967 911 has been rally prepared with driving lights mounted on the hood, a 100-liter gas tank, steel wheels, vented front disc brakes and a roll bar. The engine has been recently rebuilt and the car nicely detailed throughout. A Porsche Certificate of Authenticity comes with the car and we are told it drives really well, with no faults noted. Finished in the rarely seen color combination of dark blue with gray leather upholstery, this 911 has a unique character and really stands out.