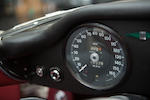 1964 Jaguar XKE Series 1 3.8-liter Roadster
Chassis no. 881232
Engine no. RA5998-9
• 3.8-liter inline six-cylinder
• Four-speed manual gearbox

• Completion restoration in 2007
• Jaguar Heritage Certificate
• Desirable early 3.8-liter model

When Jaguar Cars Limited introduced the E-Type in March of 1961, it was the culmination of all the great style and engineering that had gone into their cars since World War II. Starting with the XK120 sports car and then the Mark I and Mark X saloons, Jaguar reached its apex with the E-Type. Called XK-E in the US, it continued where the XK150 left off, taking the S-spec 3.8-litre inline six with triple SU carburetors, moving it back for better weight distribution, then removing a bit of size and heft for good measure. With the addition of an independent rear suspension, Jaguar's sports car was now in the big league in terms of performance and style.

But there were other notable things about the E-Type: its unit-body shell was the first Jaguar not designed by Sir William Lyons, yet his influence was all over it because the E-Type - especially the convertible - was absolutely gorgeous. With its high-torque 265 horsepower motor, it was a capable of hitting 150 mph yet also able to creep along at 10 mph in top gear. If there ever was a vehicle that had it all, it was the Jaguar E-Type. A long-wheelbase 2+2 joined the lineup for 1966 but otherwise the E-Type stayed true to its roots with a convertible and fixed-head coupe. Stickering in the mid-$5,000 range, it cost as much as a Cadillac convertible but certainly not as much as a contemporary Maserati or Ferrari. It was unlikely that a car with a better combination of poise, performance, and price existed.

The E-Type received accolades upon accolades when it was first introduced and continues to turn heads more than 50 years since its introduction. Three series of E-Types were produced through 1974, with a V-12 becoming the prime motivation for the Series 3, but it is the Series 1 that is the purest vision of Jaguar's modus operandi.

This cream with red leather Series 1 "open two-seater" convertible was in the same family ownership from the 1970s until earlier this year and comes with a Jaguar Heritage Certificate for authenticity. It received a complete restoration in 2007 with its numbers-matching motor and receipts and records for your inspection; precious few miles have been added since then, which gives you the opportunity to drive a like-new Jaguar that is the envy of all the collectible cars out there.