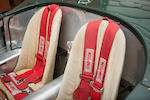 1953 Jaguar C-Type Replica
Chassis no. 111
• Inline XK six-cylinder
• Four-speed manual transmission
• Four-wheel disc brakes

• Left-hand drive
• Titled as a 1953 Jaguar
• Many period correct components
• Dual-purpose car at home on either road or track

Jaguar's new XK120 was the hit of the 1948 London Motor Show. Streamlined and slinky, it was the antithesis of the traditional look espoused by MG, Morgan and Singer. Customers gave it a warm welcome, validating Jaguar chief William Lyons' decision to start production in July.

In 1950, Lyons watched as a team of XK120s competed at Le Mans. While the cars performed well, one finishing in the top 12, he recognized that further work on the chassis would be necessary in order to be truly competitive. Thus began the C-Type project (C for "Competition"), an XK120 engine in a proper race-tuned tubular space frame chassis clad with an aerodynamic aluminum body. In 1951, the new model won the 24-hour race outright, the first of a string of seven enviable victories. In all, 53 original C-Types were built from 1951 to 1953.

The C-Type Jaguar is so popular, and original cars are sufficiently rare and expensive, that the building of replicas has become a significant cottage industry. So significant is the business, moreover, that specific brands, like Proteus, TWR and Heritage, have become well known. This car was reportedly constructed in Argentina around a British kit of unknown origin using alloy and fiberglass hand-crafted bodywork and is one of very few left-hand drive C-Type replicas currently in the United States.

Under the shapely skin are Jaguar mechanicals, including an XK six-cylinder motor with triple Weber 45 DCOE carburetors and a four-speed full synchromesh gearbox. Suspension is fully independent front and rear for better traction while four-wheel disc brakes using three-piston front calipers, drilled rotors and braided stainless steel hoses ensure the car stops as well it goes. A set of new Dunlop tires mounted on Dunlop 15-inch wire-spoked wheels give the car the correct stance, while Smiths gauges, Brooklands aero screens and a Moto-Lita steering wheel give an authentic view from the driver's seat.

Offering all the driving thrills of an original at a fraction of the cost, this recreation of a legendary 1950s endurance racer is appropriately titled and registered as a 1953 Jaguar.

Saleroom notices
Please note this item is withdrawn.