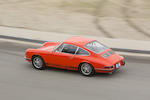 Original EMPI prepared, Bob Bondurant tested
1967 Porsche 911S Coupe
Chassis no. 308224S
Engine no. 962018
• 2.5-liter flat six-cylinder
• Five-speed Type 901/02 close-ratio transmission

• EMPI prepared with "big bore" kit
• Tested by Bob Bondurant at Riverside Raceway
• Former VARA vintage race car
• Extensive documentation and known history
• Recently restored as a California "hot-rod" road car

It would be difficult to name another automobile design that has amassed as successful a racing history as Porsche's evergreen 911. Introduced as the Type 901 in 1964, it was a winner right out of the box, with a privately-owned car winning its class at Daytona, even before the factory's own cars were ready. Early 911s were also winners at the Monte Carlo Rally, Marathon de la Route, and countless other venues, and variants would go on to dominate GT grids around the world.

Here is a freshly restored three-owner, rust-free early short-wheelbase Porsche 911S that has spent its entire life in southern California. 308224S was delivered to Economotors Porsche in Riverside, where owner Joe Vittone (founder of EMPI, one of the earliest VW and Porsche aftermarket manufacturers) used it as a demonstrator. The original 2.0 air-cooled six was enlarged to 2.5 liters using EMPI's new "big bore" kit. Vittone had Bob Bondurant demonstrate the car to the media at nearby Riverside International Raceway with very impressive results, turning the quarter-mile in a best time of 13.09 seconds at 109 mph. Bondurant enjoyed driving the car so much that he adopted its Tangerine color for many of his own cars.

The Porsche was then sold to its first registered owner, a Riverside physician, in 1969. Over the next 20 years, it was used almost exclusively for club track days. Around 1990, the car changed hands, and its new owner repainted the track-worn veteran in the original color of R2002 Tangerine, later displaying it at local car shows while putting it to regular use. A few years later, having recorded some 70,000 miles, it was purchased by its next owner and delivered to Galen Bieker at Werks II for conversion into a VARA vintage racing car. Ten seasons of competition followed, with class Championships in 1998 and 2001. The car was retired by its owner in 2007, after which the engine was rebuilt at Aase Motors, using a fresh aluminum 1968 case, the original having cracked but preserved for posterity.

The consignor purchased the car in 2011, along with nearly all of its original parts, which fortunately had been retained over the years. A six-month restoration ensued, with the tub stripped to bare metal, all the original panels refitted, and resprayed the original color. Most of the purely racing parts were removed from the tub and stock components including the gas tank and exhaust system were re-installed. The interior was restored with correct seats trimmed in black leatherette Houndstooth, door cards, headliner, carpets, and a re-wrapped leather steering wheel. The original gauges were all rebuilt.

The 2.5 liter engine utilizes JE pistons, S "Sport" cams, and Pertronix electronic ignition, dyno-tested by Vision Motorsports with 168 hp at the rear wheels (over 40 hp more than stock). The transaxle contains a GT torque-biasing differential. Underneath, this potent 911S features Bilstein gas racing shocks, raised spindles, monoball bushings, larger diameter (19mm and 24mm) torsion bars, 911S brakes with a dual reservoir, and an auxiliary fender-mounted oil radiator.

Included with this Porsche is a partial tool kit, original owner's manual, a magazine article signed by Bob Bondurant, this car's original engine case, original blue license plates and Economotors license plate frame.
Saleroom notices
Please note that the engine currently fitted to the car is number 3280235.