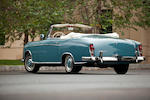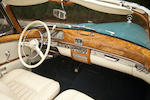 1959 Mercedes-Benz 220S Cabriolet
Chassis no. 9500275
Engine no. 180-9242-8505399
• 2.2-liter inline six-cylinder
• Four-speed column-shift manual transmission
• Twin carburetors

• Attractive and rare cabriolet variant
• Largely original, well-maintained example
• Enjoyable weekend driver

The 220 was Mercedes-Benz's bread and butter model, comprising the vast majority of cars built, particularly for export, in the mid- and late-1950s. First introduced in 1951, the 220 was comfortable, well built and attractive. Its 80hp single overhead camshaft six, however, did little to provide exciting performance.

The longevity and commercial success of the Mercedes-Benz 220 saw a new body introduced at the Frankfurt Show in 1956, nicknamed the 'Ponton'. With only the slightest hint of separate rear fenders, the full-envelope bodywork was modern while still being instantly recognizable as a Stuttgart product. The fully independent front suspension and single joint rear swing axle gave excellent road holding but was tuned by Mercedes-Benz for comfort and stability at high speeds.

The 220S, with dual carburetion and higher compression ratio, resolved the power shortcomings of the 2.2 liter single overhead camshaft six-cylinder M180 engine from its introduction in 1956, eventually culminating in the 120hp of this 1959 220S Cabriolet of which just 2,178 were made.

Finished in light blue with white leather upholstery and a tan cloth top this 1959 Mercedes-Benz 220S Cabriolet is, other than a repaint, a completely original and exceptionally well-preserved example.

For most of its life it was the carefully, even lovingly, maintained weekend driver of a dentist in California, where it benefited both from his care and attention and the benign California climate.

Equipped with a column-shift four-speed manual transmission, hubcaps, radial tires with narrow whitewalls, a Becker Mexico radio and driving lights. The interior is extremely well preserved and is attractively set off by exceptionally attractive and unusually-figured wood moldings and trim.

Most importantly, it is a car that has never had or needed a restoration, never been disassembled or messed with, just carefully and consistently kept up with its needs met as they occurred. It runs and drives well and will turn heads wherever it goes.

Examples like this - particularly desirable models and body styles like the 220S Cabriolet - are increasingly hard to find and make stylish, reliable open-topped entries for tours and rallies.
Saleroom notices
Please note that the title for this vehicle is in transit.