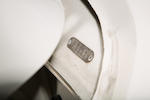 1957 Jaguar XK140 MC Fixed Head Coupe
Chassis no. S815179
Engine no. G6400-8S
• 3,442cc inline six-cylinder
• Four-speed manual gearbox
• Optional 'MC' model with C-type head

• Former JCNA show car
• Lovely patina inside and out
• Long-term ownership

When the newly christened Jaguar Cars Limited debuted the brand-new XK120 in 1948, it caught the imagination of the world like nothing before it. Returning World War II veterans who had discovered the joys of driving jaunty two-seaters with solid handling and the wind through their hair played a big part in the popularity in making foreign sports cars an American phenomenon, and the XK120 had style and speed in spades. A 3.4-litre DOHC inside with aluminum heads and independent torsion bar front suspension gave it the brisk power and handling that set a post-war standard. It was popular in races and rallyes like Silverstone, Le Mans, and Mille Miglia, and its C-Type competition variant had a lightweight tubular frame and more aerodynamic body that was a two-time winner of 24 Hours of Le Mans. With Stirling Moss and Leslie Johnson at the wheel, the XK120 became the first car at L'autodrome de Linas-Montlhéry to average 100 mph for 24 hours straight.

The XK was updated in late-1954 and re-christened the XK140. With improved brakes, rack and pinion steering, and more flexible suspension, it was improved every which way. Inside, the engine, firewall, and dashboard was moved up three inches, giving more front seat comfort while creating two plus-two seats behind. Standard motivation now was the 3.4-liter straight-six with 190 horsepower; an option was the 210-horse motor with cylinder heads from the C-Type racer; the latter was called the XK140 SE in the United Kingdom and XK140 MC in North America.

The title of this numbers-matching, 64,000-mile XK140 MC fixed-head coupe displays names of the the original and second owners, plus it has a letter of authenticity from Jaguar (pre-dating Heritage Certificates) confirming the original owner. The most recent owner had this XK in his possession for the last 45 years. He used Connolly Hide Food "little and often," perfectly preserving the natural patina that cannot be duplicated with a restored interior. Included in the sale are the original keys with numbers inscribed, original tool roll, original owner's manual, original work order for the leaper, and original radio. With awards in both JCNA Concours 20 years ago and JCNA Best in Class Driven Class winner last year, you know this XK140 MC has the potential to be either driven or shown, offering the purchaser the best of both worlds.
Saleroom notices
Please note, this car was completed in November 1955, but is titled as a 1957.