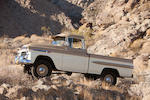 1959 Chevrolet 3100 Apache Fleetside Deluxe NAPCO Pickup Truck
Chassis no. 3A59J105986
• Rare NAPCO 4-Wheel-Drive Model 23 transfer case
• 235.5ci Thriftmaster inline six-cylinder
• Four-speed manual transmission

• Top of the line model, fully optioned
• Prize-winning, stunning restoration
• Featured in 2013 Hemmings Calendar

While well-equipped 4-wheel-drive trucks from major manufacturers are not only commonplace but have been among the best selling vehicles in the US for decades. This hasn't always been the case- there was a time when if GM wanted to sell a go-anywhere utility, they had to turn to an outside supplier to make it a reality. In 1942, NAPCO, the Northwestern Auto Parts Company of Minneapolis, MN, began selling their "Powr-Pak" 4x4 Conversion to owners of GMC and Chevrolet pickups as well as other brands. With their rugged drive technology proven in WWII, by 1956 GM began to offer the NAPCO drive as a regular production option (RPO). However, 1959 was to be the final year of this arrangement, as a redesign of the suspension for 1960 meant that GM would market its own system and the NAPCO equipment was no longer compatible.

This 1959 Chevy 3100 Fleetside Deluxe NAPCO truck has been restored to a level normally only seen on high-end passenger cars - but nevertheless attention was paid to ensure that the correct finishes and details were used, so it can't be considered "over-restored". The Bombay Ivory and Frontier Beige paint gives a quiet sophistication to this workhorse and the chrome bumpers, grill, hubcaps, side spears and windshield visor, door handle guards, oil bath filter, lighter, 2-speed wipers and heavy-duty factory radiator speak to the high option level this truck boasts. The stunning interior has the correct woven pattern cloth, AM radio and heater / defroster, while the dashboard displays the all-wheel-drive operating instructions. Under the hood the Thriftmaster 6 shows hardly a trace of use, and all stickers, hoses, clips and tags appear just as they did on the day the lucky first owner picked up this truck at the dealer in 1959.

The quality of this truck has been acknowledged with wins at the 2011 Desert Classic Concours where it was chosen "Best Non-Passenger" vehicle and the Palm Springs Cruiser's Association Car Show "Sponsor's Pick" in 2012. Vintage pickup trucks have become increasingly sought-after by not only truck collectors but general vehicle enthusiasts as well. This particular truck pushes so many of the right buttons: it's a top-of-the-line Fleetside, well optioned, spectacularly and correctly restored and it's NAPCO equipped. In addition to enjoying all the above, the new owner of this truck can also put it up on his wall- it's the July feature of the 2013 Hemmings Motor News Vintage Pickups Calendar.

Saleroom notices
After going to press, we were delighted to learn that this Apache will appear on the cover of the February 2013 edition of Hemmings Motor News. In addition, the truck is featured in Hemmings Buyers Guide piece in that issue for 1955-59 Chevrolet pickups. A true testament to the exceptional presentation of this Chevy! Please note that the engine number for this vehicle is 703JF.