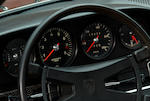 1968 Porsche 911S Coupe
Chassis no. 11800561
Engine no. 4080688
• 1,991cc flat six-cylinder
• Five-speed manual transmission

• Extremely rare European-model '68S
• Matching numbers example
• $30,000 in recent receipts
• Originally delivered in Paris

Introduced at the 1963 Frankfurt Auto Show, Porsche's all-new 911 drew instant acclaim. Like its predecessor, the long-running 356, it had a rear-mounted air-cooled "boxer" engine, but where the 356 had four cylinders the 911 offered six, displacing 1,991 cc.

While the 356 was notable for its longevity in the marketplace, the 911 has proved nearly immortal. Despite the introduction of front-engine, water-cooled Porsches in 1977, the 911 has remained in production since its inception, and its variations number upwards of 30.

In 1966, a performance-oriented 911S was added to the line. Its engine had the same displacement as the 911, but with higher compression and fed by twin Weber triple-throat carburetors, it delivered 180 SAE bhp.

Delivered through Sonauto, the Paris Porsche distributor, on January 22, 1968, this 911S came into Canada in the early 1970s through the French Embassy. Found in a Montréal parking garage after a long period of storage, it was repainted in 1996 in the original Polo Red color, at which time the body seals were replaced. The interior, including soundproofing, black leatherette upholstery and red carpets, is entirely original.

The car comes with the 1968 tool kit, which is in very good condition, and the owner's manual. There is also a collection of original advertisements from Sonauto, themselves collectors' items, and a Certificate of Authenticity from Porsche confirming that the chassis and engine numbers are correct as delivered. In recent years, this 911S has had significant service work including new tires, muffler, carburetor rebuild and tune ups. Joining the Oldenburg Family Collection, in August 2008, it was treated subsequently treated to a complete in-house rebuild of the original engine by a Porsche factory master technician, with receipts on file to the tune of approximately $30,000.

This 911 is described as a very good roadgoing example, and will attract serious interest among Porsche enthusiasts in the know, as in 1968 there was no US-model 911S. As such, the '68 'S' is an extremely rare sight on these shores. The performance of the Porsche 911 invited spirited motoring, so many were driven long and hard. This is a chance to acquire a sensibly used, well-preserved and properly maintained example.
Saleroom notices
Please note that the title for this vehicle is in transit.