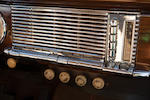 1948 Packard Deluxe Touring Sedan
Engine no. G261926CE
• 288ci line eight-cylinder
• Three-speed manual transmission

• Well kept example
• Mostly original interior
• Recent, enjoyable test drive

Although its cars continued to be built to exemplary standards, Packard in the post-war years failed to match the pace of styling change that its customers, and the rest of the US auto industry, had come to accept as the norm. Nevertheless, Packards of the late 1940s are amongst the most collectible of post-war American automobiles. When production re-commenced in October 1945, Packard fielded its 'Clipper' range almost unchanged from that on offer for 1942. Packard had first applied the Clipper name to a new eight-cylinder model in 1941. Although it used the existing One Twenty's engine, the '41 Clipper incorporated a new chassis and striking up-to-the-minute styling. Only one model was available initially, a four-door sedan, which was lower than any contemporary Packard and wider than just about any other car on the US market. For 1946 the Clipper line-up was extended to include the six-cylinder Packard while there were three eight-cylinder series: Standard/Deluxe, Super and Custom Super.

The Packards continued virtually unchanged, either stylistically or mechanically, for 1947 and it was not until the 1948 range was announced that there was a wholesale makeover. Known as the 'inverted bathtub', Packard's new look was longer, sleeker and more streamlined than before. Only three series (all eight-cylinder) were now available: Standard/Deluxe, Super and Custom, the latter in either standard or long-wheelbase versions, which were powered by Packard's 'Thunderbolt' inline side-valve engines of 288cid, 327cid and 356cid respectively. The Deluxe models, offered in two-door Club Sedan or the four-door Touring Sedan as presented here, added additional exterior trim and interior appointments over the Standard version including fancier wheel trim and the 'Winged Goddess' mascot. They were far and away the most popular Packard of the day, accounting for more than a third of the 1948 production total.

This striking Packard Blue 1948 Touring Sedan received a cosmetic and mechanical restoration in the mid-1990s, including a high quality paint job costing $15,000 that still looks fabulous today. The interior was preserved apart from new carpets at the time, with the original seats, door panels and headliner deemed to good to replace. Receipts for much of the work are on file.

Having lived in the dry desert climate of Palm Springs for many years, the current owners bought the Packard from friends after coveting it for some time for the combination of style, rarity and condition. Initially entered in a few car shows and enjoyed on the road, car has been used less frequently in recent years and the time is now right for it to move to a new home.

The Packard fires up, drives and shifts easily through its column-operated three-speed transmission, and we enjoyed wheeling it through Palm Springs during a recent test drive. Offering a great deal of car for the money, this Packard is an excellent entrée to the Classic Car scene and would make a delightful tour car.
Saleroom notices
Please note that this vehicle is titled under its engine number, and its chassis number is 2262-940338.