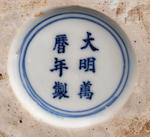 A wucai barrel-shaped chess box and cover
Wanli six-character mark and of the period
Vividly painted in bright underglaze blue and enamelled in green, yellow and iron-red with a continuous scene of four mythical beasts with wild manes and tails issuing fire scrolls in a landscape of pines and rockwork, between a band of floral scroll at the foot and a geometric four-petalled floral band at the rim, the cover with a blue qilin, a green mythical beast and an elephant outlined in iron-red prancing in a pine grove.
14.5cm (5¾in) diam. (2).
Footnotes