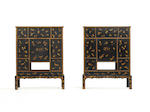 A pair of important gilt-lacquer cabinets
18th century, Japanese, probably for the Chinese Imperial Court
Each elaborately constructed as a central two-doored cabinet surrounded by three friezed compartments at the top and three low compartments at the bottom and two shelves on either side, the external sides filled with diagonal struts, one on each side with a pierced area diagonally across, all raised on an aproned platform on four straight legs, all the woodwork covered in black lacquer and gilded and the interior and exterior with Japanese genre scenes of huts in mountain landscapes with small figures, the tops each gilded with five cranes in flight over a riverscape, and the backs painted in gold with scattered blossoms including ivy, iris, aster and prunus.
Each 99.4cm x 39.4cm x 126.5cm high (39 1/8in x 15½in x 49¾in high) (2).
Footnotes
Saleroom notices
Please note that this lot is large and will be returned to our warehouse for collection after the sale.