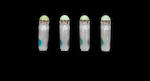 A set of four inside-painted glass 'Communist leaders' snuff bottles
Painted by Dong Xue, inscribed by Wang Xisan, dated 1988
Each brilliantly painted depicting a Communist leader: Mao Zedong (1893-1976); Zhu De (1886-1976), Liu Shaoji (1898-1969) and Zhou Enlai (1898-1976), one side with the individual at a younger age in black monochrome, the other side with the same figure but depicted at an older age in various colours, all with kaishu inscriptions, signatures and painted seal marks of the artist.
6.2cm high. (4).
Footnotes