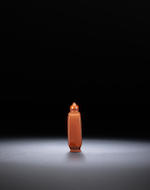 Two engraved pottery on wood 'figure and landscape' snuff bottles
Late Qing dynasty
Both skilfully carved on wood, covered with a slip and intricately incised with figures and landscapes, one with a lady strolling in the garden, the other with a gentleman seated under a tree by a river, of double gourd and trapezoid form.
6.2cm high (the taller). (2).
Footnotes